My skin is very dry and in winter I have to use a cream or butter (yes, the lotion is not enough) at least once a day.
I have tried several Clarins body moisturisers over years and their Extra-Firming Body Cream is my absolutely favourite. In fact, this is one of the best creams I have ever tried.
This is a rich cream, which is almost like a butter, but it doesn't feel greasy or oily at all.  According to Clarins, the product should lift, tone and comfort, and it does.
My dry skin absorbs it pretty quixkly and doesn't leave any residue. I personally really love the nice and subtle scent which would not conflict with your perfume.  Skin on my body feels very nourished, moisturized, smooth, silky and soft.  Also I would say that it does improve the skin's density and elasticity, as promised.
Seems like I have used all the "pretty" words I could think of (ha!) but it is true.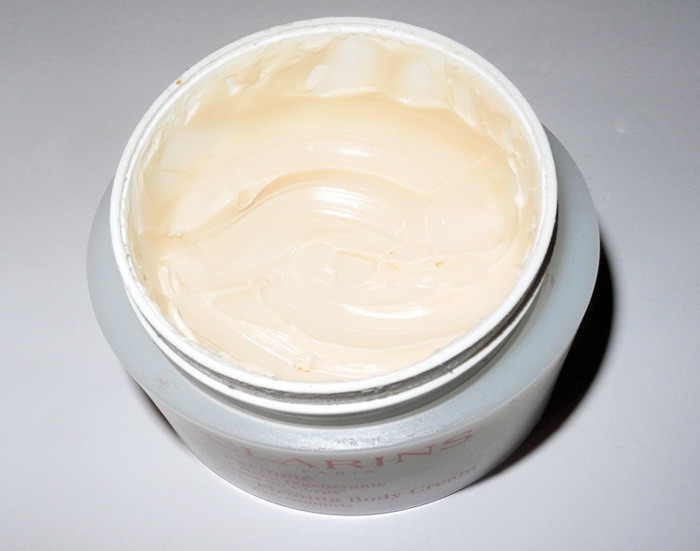 Clarins' Extra-Firming Body Cream is a true luxury treat. I adore using mine after along and hard day after a bath or a shower.
By the way,  as I was writing this review, I found that this cream won several prestige beauty awards, I am not surprised.
The price is not cheap (£40/$60 for 200 ml), but I will definitely re-purchase it in the future as, in my opinion, it is definitely worth it.
Unfortunately, I can't find the package anywhere so I can't take the photo of the ingredients.
According to Clarins' websites – the key ingredients are:
"Lemon thyme extract: helps protect elasticity for more supple skin. Extracts of bocoa, centella asiatica and lemon thyme: encourage the production of skin-firming collagen Shea butter and jojoba oil: moisturise and nourish."