So, here is a preview of the new Clarins palette and amazing value sets for Christmas.
First of all, they released a Mineral Eye Make-Up Palette with ten natural shades which retails for £35. And it's about time!
There are also a lot of value beauty and makeup sets to choose from. I personally have a tradition of getting at least one Clarins set each year. At least this is what I did for the last three years. It's a great opportunity to try the brand's products if you are not familiar with Clarins. Or to stock up on your favourites, while saving money, which is my case.
I think I will get HydraQuench set this year, as I am a die hard fan of the line and am running out of  the serum and cream already.
I have reviewed tonnes of Clarins products over the years, so you can take a look if you are curious about any.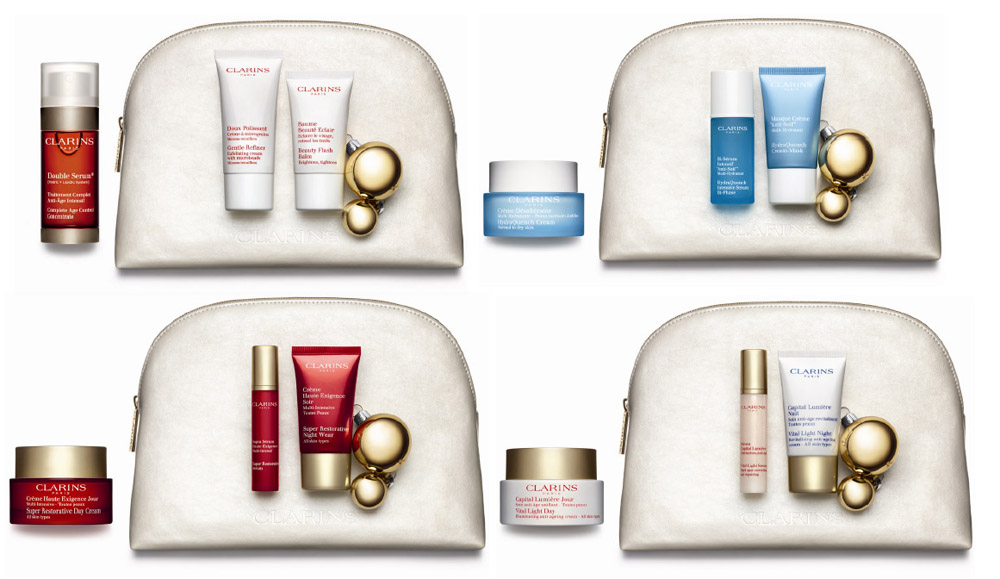 Anti-Ageing Must-Have Collection Youth-Boosters
Retail Price: £55.00 Customer Saving: £23.70
Double Serum 30ml
Gentle Refiner Exfoliating Cream 30ml
Beauty Flash Balm 15ml Retail
 HydraQuench Collection Moisture Must-Haves
Retail Price: £34.00 Customer Saving: £27.10
HydraQuench Cream AST 50ml
HydraQuench Intensive Serum Bi-Phase 15ml
HydraQuench Cream-Mask 15ml
Super Restorative Collection Skin Replenishers
 Retail Price: £66.00 Customer Saving: £46.00
Super Restorative Day Cream AST 50ml
Super Restorative Serum 10ml
Super Restorative Night Wear AST 15ml
Vital Light Collection Skin Illuminators
Retail Price: £60.00 Customer Saving: £38.57
Vital Light Day Cream AST 50ml
Vital Light Serum 10ml
Vital Light Night Cream AST 15ml
Multi-Active Collection Skin Smoothers
Retail Price: £40.00 Customer Saving: £28.57
Multi-Active Day Early Wrinkle Correction Cream AST 50ml
Multi-Active Skin Renewal Serum 10ml
Multi-Active Night Youth Recovery Cream 15ml
Extra-Firming Collection Super Skin Firmers
Retail Price: £48.00 Customer Saving: £31.00
Extra-Firming Day Cream AST 50ml
Extra-Firming Tightening Lift Botanical Serum 10ml
Extra-Firming Night Cream 15ml
Face & Body Care Essentials Skin Care Heroes
 Retail Price: £25.00 Customer Saving: £29.10
Gentle Foaming Cleanser 50ml
Beauty Flash Balm 30ml
Exfoliating Body Scrub 100ml
Moisture-Rich Body Lotion 100ml
Face & Body Care Collection Top-to-Toe Pampering
  Retail Price: £49.00 Customer Saving: £37.20
Beauty Flash Balm 50ml
Hand & Nail Treatment Cream 100ml
One-Step Gentle Exfoliating Cleanser 50ml
Eye Contour Gel 10ml
HydraQuench Cream 15ml
Moisture-Rich Body Lotion 30ml
Lip Collection All About Lips
Retail Price: £18.00 Customer Saving: £11.03
Rouge Eclat 13 Woodrose 1.4g
Colour Quench Lip Balm 02 Peach Nectar 7ml
Instant Light Natural Lip Perfector 01 Rose Shimmer 5ml
Gloss Prodige 04 Candy 2.5ml
Eye Collection All About Eyes
Retail Price: £21.00 Customer Saving: £11.28
Wonder Perfect Mascara 01 Black 7ml
Eye Revive Beauty Flash 3ml
Instant Smooth Perfecting Touch 4g
 ClarinsMen Collection Grooming Essentials
Retail Price: £38.00 Customer Saving: £30.50
ClarinsMen Super Moisture Balm 50ml
ClarinsMen Exfoliating Cleanser 125ml
ClarinsMen Smooth Shave 50ml
ClarinsMen Anti-Fatigue Eye Serum 10ml
 Eau des Jardins Collection Captivating Luxuries
Retail Price: £30.00 Customer Saving: £20.83
Eau des Jardins Spray 100ml
Eau des Jardins Delicious Body Cream 100ml
Eau des Jardins Uplifting Shower Gel 50ml
 Eau Ressourçante Collection Pure Pleasures
Retail Price: £30.00 Customer Saving: £20.83
Eau Ressourçante Spray 100ml
Eau Ressourçante Silky-Smooth Body Cream 100ml
Eau Ressourçante Bath & Shower Milk 50ml
Eau Dynamisante Collection Wake-Up Treats
Retail Price: £30.00 Customer Saving: £17.53
Eau Dynamisante Spray 100ml
Eau Dynamisante Moisturizing Body Lotion 100ml
Eau Dynamisante Shower Gel 50ml