In my first #CleanAndLean post I've promised to publish the second part this weekend. But I've realized that it's summer, and a lot of you want to start a new regimen as soon, as possible. So here is part two today…
I did not take photos of every single meal because: a) I don't carry a good camera with me all the time b) sometimes I was so hungry, that taking photos was the last thing I would think of… But there are quite a few anyway. The menu is also included.
Day 1, Tuesday
I am not gonna lie, today was pretty hard. I usually eat  more for breakfast, and often have toasts, so by the lunch time I was ravenous.   This is why I did end up chewing the salad for almost as many times, as James recommends, enjoying it to the fullest.
Poached Eggs with Broccoli, Rocket, Grilled Tomato and Parmesan
Later in the day, I had to be away from the office, so couldn't have my  second snack (berries), so was really looking forward to them. I don't remember when was the last time I've tasted such delicious berries! I never though I could be so grateful for them, ahem.
Unfortunately, dinner got delayed, and I have no idea how I've managed to spend 7.3 hours (had lunch at 1 and dinner at 8.30) with berries being my only food. I've cheated a bit and bought myself a small orange juice. Well, at least I did not go for the ice-cream that I was dying to get. As for dinner, it was the best chicken of my life. Somehow I was so full that couldn't finish my portion.
Day 2, Wednesday
I've never tried rice milk before, always wanted to, but somehow never did. And, let me tell you, it's delicious, plus all the nuts, it was good.
I wasn't starving until lunch, woohoo, maybe this breakfast and snack were more filling, or maybe I am getting used to it? I am also excited that today I am having chicken with salsa and salad with spinach and avocado. Thank God that I love spinach, avocado, and broccoli and eat them a lot anyway, otherwise, I don't know how I'd be able to stick to this eating plan.
Grilled Chicken Breast with Spicy Salsa and Spinach and Avocado Salad
Mince Sauce for sinner was pretty awesome with beef and tonnes of veggies, from courgette and peas to aubergine and celery. Somehow, I couldn't finish it this time, too. I think, tomorrow, I will make a smaller portion than James suggests.
So far, I'd say that I get less for breakfast and for lunch than I am used to, and more for dinner. Hmmm…
Day 3, Thursday
I woke up an hour earlier than usual to fit in the workout, as I am always out of time. But no excuses now!
Today's breakfast was unbelievably tasty. Rye toasts with butter, cinnamon, honey and almonds. I had it with black tea. James actually writes that black tea is a bad option but I've decide to treat myself as I really don't like green, and did not have my favourite (black) one for several days now.
Wow, the dinner is salad with no salt or oil, at least with some turkey in it, 100 grams, to be precise, the only dressing is the lime juice. I guess that's because I had a luxury of having bread with butter for breakfast. I did not enjoy this at all, to be honest. The worst meal so far, I did not even finish it.
By the way, I have to mention that James suggests adding garlic almost to every dish, so you definitely have to keep that it mind, and think about your breath and other people 😉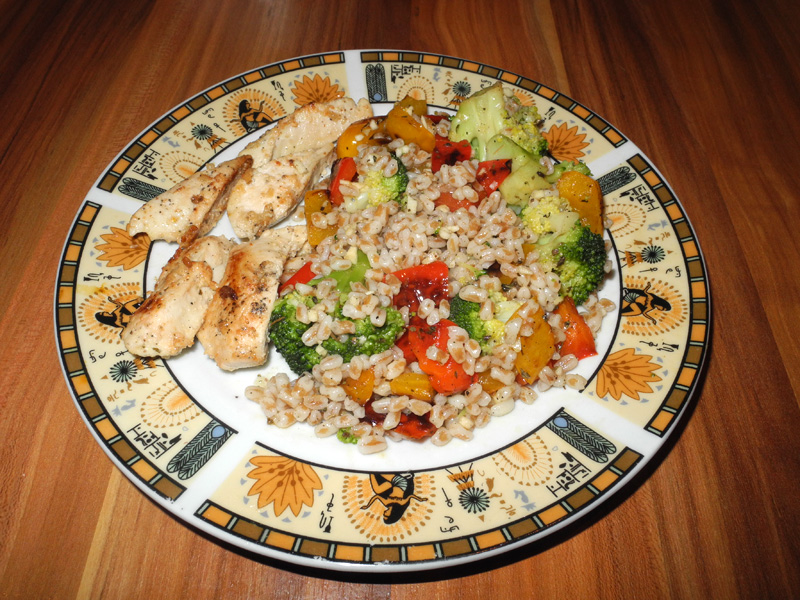 Red and Yellow Pepper Spelt Salad
Finally, I ate the whole dinner, spelt with red and yellow pepper and broccoli with chicken. So good, but not enough this time.
At this point I am starting to think that this program should suit celebs with personal cooks or housewives, who don't have children. I literally spend all my free time trying to figure out what products I still need to buy, grocery shopping and cooking. No joke!  For example today I got to bed at 2am because I had to finish breakfast and lunch for tomorrow. Crazy, right? Hopefully, soon I will get better with it.
Day 4, Friday
It is my least favourite breakfast,as in day 1, poached egg with grilled tomato, broccoli, rocket and parmesan.  I want a toast with my egg.  But what what can I do?! Just continue chewing my veggies.
You can buy "Clean & Lean Diet:" here for £8.96 or here for $12.42   to join me!
Yesterday I had a mini panic attack. I went to get a lamb for today's lunch and it was all sold out (it was late in the evening, as I couldn't go earlier). I had no idea what to do, so just got rabbit instead. Hope, that's ok. Also when  I was shopping around I saw some rhubarb and started imagining a rhubarb pie with white chocolate and ice-cream. Guess what?! Today my Mum called me and asked if I'd like to come over for a rhubarb pie (what a coincidence.), I died a little inside saying no.
I am really looking forward to the dinner which is Chicken, Asparagus and Cashew Nut Stir-Fry. Boy, does that sound delicious. Now I need to get home, cook and EAT it.
By the way, I've ordered some chia seeds and quinoa on-line. Wanted to try both for ages, so now it's the perfect time, since I need them anyway!
Day 5, Saturday
I think, I am getting addicted to rice milk, it is just so good. Plus Clean and Lean Superbreakfast is so much better and is  more feeling that the egg with veggies.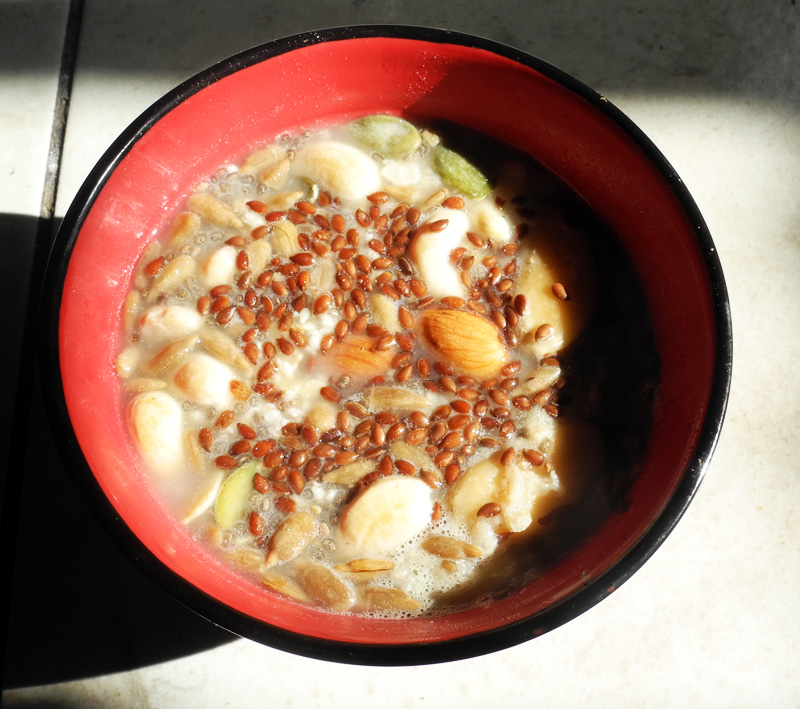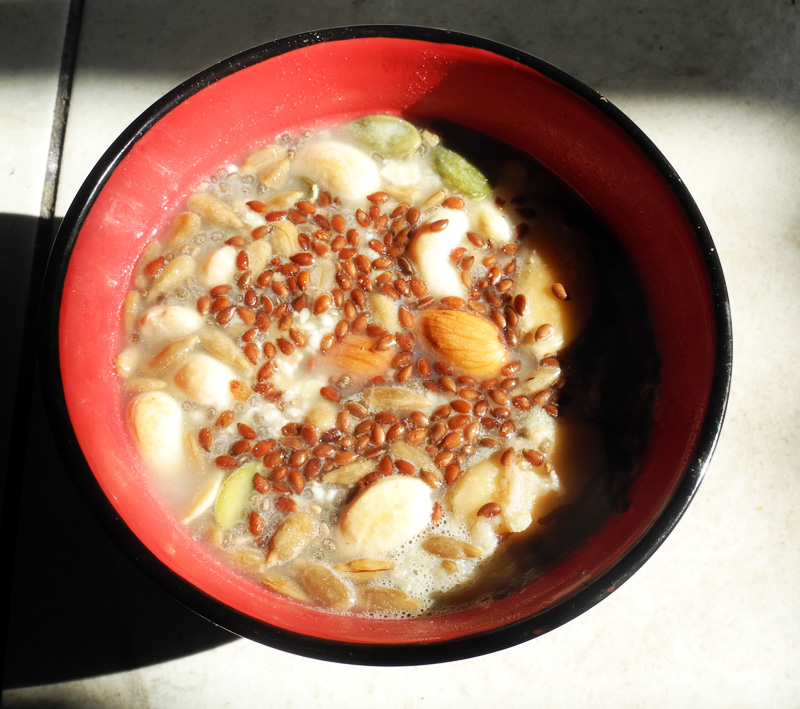 Clean & Lean Super Breakfast; oatmeal with rice milk different nuts and seeds; just before turned into a smoothie.
What do we have for dinner? Quinoa with Roasted Pepper and Seeds. That the first time I am trying quinoa, and it is not bad at all. As for peppers, grilled with garlic, parsley and olive oil  – they taste delicious, but why so many peppers (in a lot of dishes)? What about mushrooms and carrots, for example?
Now, I am very excited for this dinner. Wild rice, fish and salad with pecans and avocado. This was definitely one of my favourite dinners so far. I demand more of it.  I will definitely cook the salad from this recipe again! Pecans, yum…
Day 6, Sunday
Quinoa with rice milk blueberries, blackberries and pecans. Oh my! I think, I could eat this everyday. Add some Greek yogurt, and I am sold. What an amazing way to start a Sunday morning.
Fruity Clean & Lean Quinoa
Dinner with meat, tomatoes and mozzarella did not let me down. I've also added some fresh basil which was not in the recipe, but I don't think that was a crime, and it tasted a millions time better.  Wish I could have more.
Thai Chicken Satay for dinner. This is my first attempt to cook a satay like this, and I am almost sure that it doesn't taste as it should. But It was not bad at all. I had a can of 400ml of coconut milk, which was more than I needed, so it was very hard not to drink it all up.
Also, did I mention, that I've bought coconut butter, finally? Not for any of these recipes, but just to try it out with different dishes.
Day 7, Monday
My least favourite breakfast, again. Knowing that I will have to have salad for dinner, I've cheated a little bit and also added half of the avocado. Made me feel better.
Salad for lunch, but this time it was very delicious with  feta, turkey, spinach, broad beans and some mint. Not enough though.
Broad Bean, Spinach and Turkey Salad
Dinner. Finally, salmon! Slamon is my favourite food in the World! With lime and ginger it was delicious, I look forward to eating it again. I would, of course, add shrimps and cream  but that is for another time.
I hope this was somehow interesting to read, as I really enjoy writing this post 😉
Stay tuned for Part 3, which will be Week 2, and Part 4 about my conclusions which I will publish next week!