I never used soaps, always shower gels or, even better shower creams, in the past. The thing is that I have very dry skin and soaps used to dry it out completely and leave it flaky and tight. This changed when I have  tried L'Occitane soaps…
Now I have a completely different opinion. I am eagerly trying new soaps but I choose very carefully what  brands to get. You have probably seen that I have got this set from Cowshed. It comes in a beautiful box which would make a great present actually.
You get three soaps inside from three different ranges which gives you a nice idea about Cowshed in general, too.
Knackered Cow 'Burnt out? Slow down and de-stress with essential oils of lavender to restore harmony and eucalyptus to ease tired muscles.'  
Lazy Cow 'Soothing Collection – Be left in peace with essential oils of jasmine to deeply relax, chamomile to calm, and sandalwood to aid contemplation.'
Grumpy Cow 'Feeling low? Rediscover your zest for life with essential oils of mandarin red to invigorate the senses, petitgrain to cleanse and purify, and grapefruit to stimulate circulation.'
 Each soap is 160g and is made from 100% organic palm and coconut oils and triple milled for a 'dense and luxurious texture. '
Cowshed soaps smell divine, not overwhelming but enough that you can enjoy the beautiful scent. They are very mild, gentle and (dare I say?) luxurious and leave the skin smooth and soft.  But at the same time I find that my skin is properly clean.
As I have very dry skin, I still love using my lotion afterwards but I imagine that if your skin is not as dry as mine, you may find it moisturizing and nourishing enough.
These soaps are everything I would love my soap to be and I would definitely want to try them in other scents and explore the brand in future, too.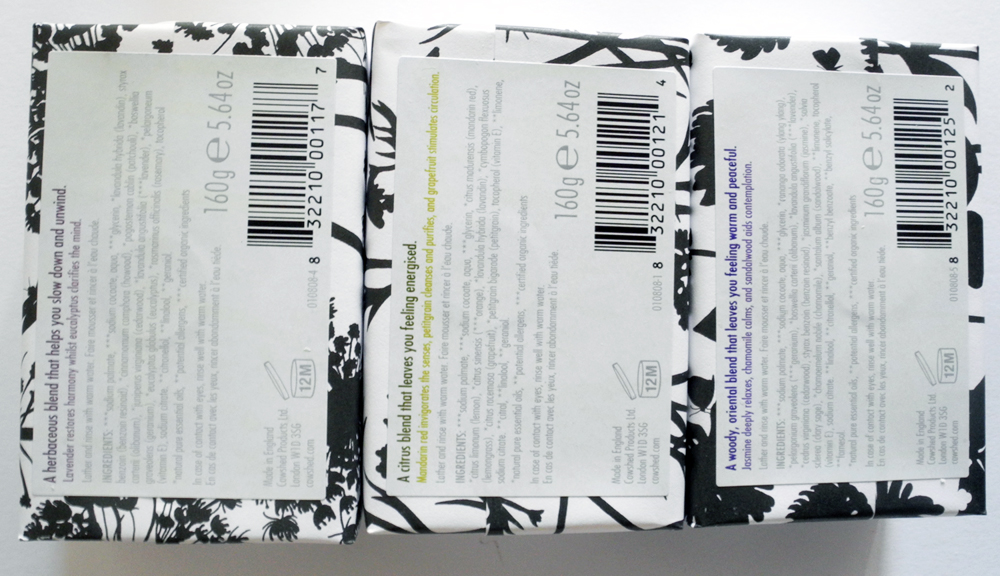 I have got my set for £22 which  makes each soap £7.3. But I have actually noticed that you can get the set for £11 only at Cowshed's website now in the sale section. This is a total bargain! I wish I knew before ordering mine (from Feel Unique). There is also a set of mini candles for £11 as well. I may have to get them now.