I just made a post about the looks from NYFW Spring 2010 that I liked and how to get them. But what do you say about such lipstick? Yay or Nay? I have a crush on bright coral lips lately. Not so extreme as these but still bright;)
So in this post I will tell you about one of my favorite lipsticks!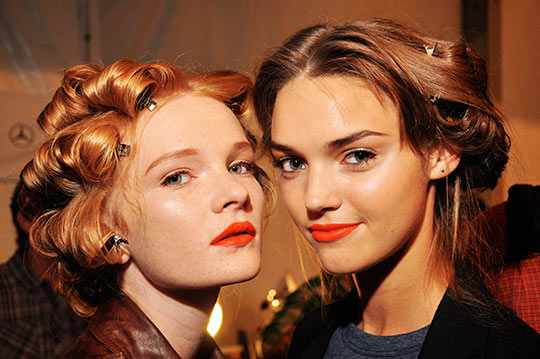 (Twinkle, Spring 2010)
I wanted to get a bright coral lipstick for a long time but it was difficult to find the shade that I would like. At last I found the color that I wanted! It is the lipstick by Inglot. I've tried highlighter and shadows by Inglot and loved it all. Everything stays on my skin for a long time plus it is very pigminted and there are a lot of colors to choose from.
I got this lipstick to wear it with brown eyeliner. Black eyeliner and red lips always rock but is sometimes boring.
So what is about the lipstick?
First of all I totally love the color! It's #401. Also the lipstick stays on my lips for a really long time even after eating and drinking.
But there is one minus.  If you have dry lips the lipstick will look really bad on your lips. It will just enhance  all the dry parts. So you  have to use scrub and balm before applying the lipstick if you have such problem.  Also it doesn't moisturize your lips as some lipsticks.
But this is not the biggest problem and plus one won't wear such color everyday so this lipstick is nice overall!
Unfortunately, I don't remember the price but it's less than $20. And now their website isn't working so I can't check it out there.