While I am still in the process of writing about my 2018 beauty favourites (better late than never?), I thought I'd share about my recent discoveries for the very dry skin in the winter time. These both are literally life/skin saviours for me!
And the products are SVR Xerial 30 Cream (Amazon, Amazon UK and Feel Unique) and Weleda Calendula soap (Amazon and Amazon UK)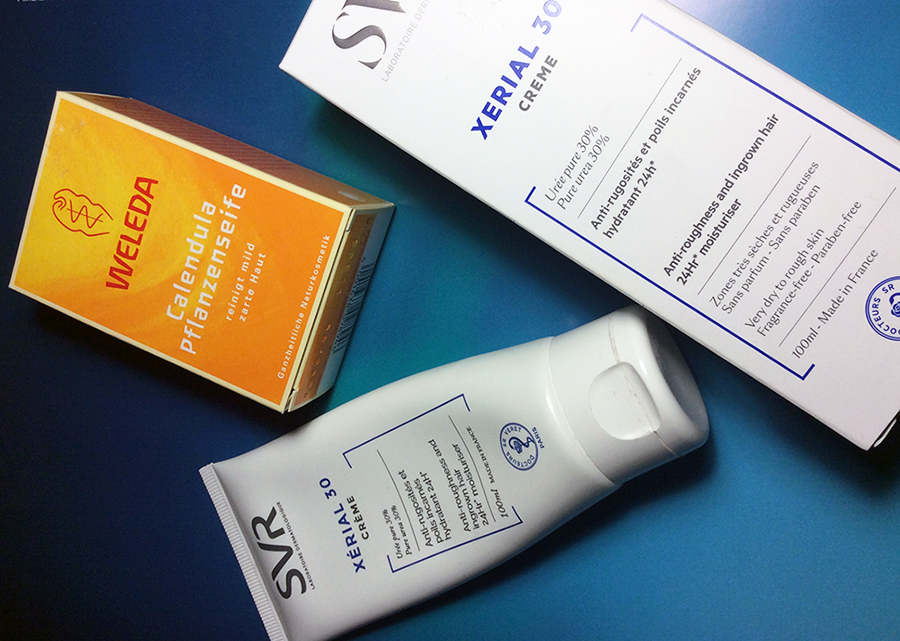 Long time readers know that I have extremely dry skin but somehow I've never shared about the actual name of my condition.  I have a genetic skin disorder – ichthyosis. And often winter makes it unbearable.
But here are the products  my dermatologist recommended that make a huge difference:
The Soap. She warned me that it has a slightly unpleasant scent to some but I did not have any issues, and it's totally fine for me. I really love the creamy and mild formula. It is a baby soap actually, and I even washed my face with it a  few times just to test it out properly, and I was impressed with the results. Although I have to admit that I am a huge fan of high end scented shower gels, I was properly hooked. Gorgeous product that did not dry my skin out!
I was also recommended  rose soap from Weleda and the one from Bioderma. So will get them once I finish this gem.
As for the body cream, I've never tried anything from SVR but have heard good things about it. And I have to say that this product is quite brilliant! While I would not  put mineral oil on my face, it seems to work for me in the body products.  SVR claim that it helps with ingrown hair but I can't make any statements on that. However, I swear by the moisturusing properties! I apply it after the shower when my skin almost burns (because of how dry it is) and it calms the irritation, and my skin is not sore anymore. The formula is so rich that sometimes I have to wash my hands as they get sticky.  The cream is scent free. I will definitely be trying factor 10 when it's not so cold outside.
By the way, since I go to see renowned dermatologist at a private clinic, I've decided to make the most of my visit, and ask for  face serums with Hyaluronic recs. And she suggested I try  Lierac Mesolift  (Amazon UK) which I've happily got as just used up my bottle of Deliplus (Spanish brand recommended to me by my facialist).
If you are suffering from dry skin as well, I suggest you give these products a go, they may work wonders for you, too!