Christian Dior once said: "After women, flowers are the most lovely things God has given the world."
Mr. Dior used to have amazing parties which were called  "Grand Balls of the Century" at his rose garden in Normandy.
And this Spring Tyen, isnpired by the beautiful flowers from the garden,  created the Garden Party collection full of pastel lilac, rose and lime shades decorated with stunning floral prints.
This collection inludes:
Dior Garden Clutch (Limited Edition), £55.00
001 Milly Garden, pays tribute to the couturier's country house, and presents a contrast of pink and silvery blue with a violet-tinged grey for the eyes and fresh pinks to enhance the lips.
002 Granville Garden, leads you down to the cliff-top rose garden, revealing precious pink and pale green shades accentuated by a deep brown, to emphasise eyes and complement the apricot-tinged, "pink kiss" lip shades.
5 Couleurs Garden Edition (Limited Edition) £41.00
441 Garden Pastels, harmony, which floats between flowers and foliage with its pale pink, buttercup yellow and luminous greens.
841 Garden Roses, harmony, which is a vision of romantic pinks, Parma violet and silver, accentuated by a dramatic purple.
3 Couleurs Smoky Eyeshadow £32.00
461 Smoky Garden (Limited Edition)
961 Smoky Violet
Rouge Dior Haute Couleur £22.50
363 Corolle Pink (Limited Edition)
448 Tulip Pink
Dior Addict Ultra Gloss £20.00
152 Socialite Pink (Limited Edition)
369 Party Lilac (Limited Edition)
452 Pretty Rose
Rouge Dior Serum de Rouge £25.00
255 Pink Dew Sérum (Limited Edition)
355 Petal Serum (Limited Edition)
Diorskin Rosy Glow in Petal (001), £29.50
Dior Vernis (Limited Edition) £18.00
504 Waterlilly, a soft green
694 Forget-Me-Not, a floral mauve
Skinflash, £25.00
001 Pink Glow
002 Ivory Glow
003 Apricot Glow
005 Universal Light (Limited Edition)
Skinflash Primer in Sheer Glow (001) £28.50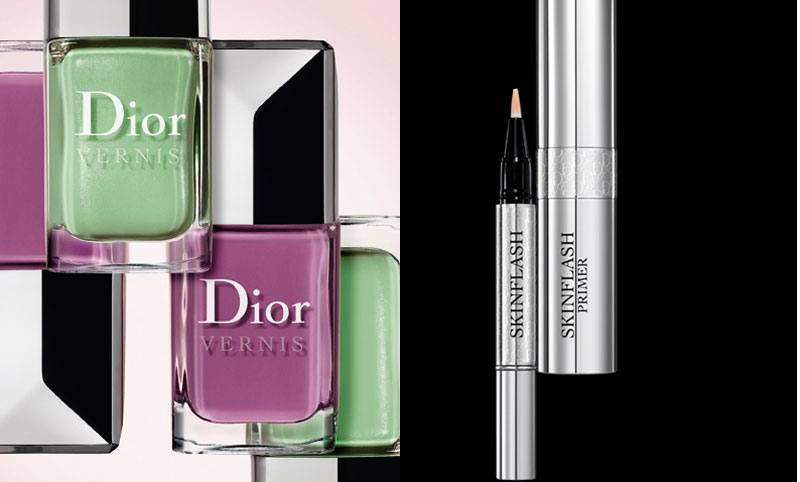 I would really love to try one of the quints and the Skinflash.
Launching exclusively at Selfridges & Brown Thomas 2nd January 2012 Available nationwide from 16 th January