You could already see some photos from Dior Fall 2010 makeup collection but here are more photos.
You know, when I think about makeup by Dior makeup the first thing I can think about is purple because often we see this shade in Dior's makeup collections (Just take a look at Dior Fall 2009 for e.g.).
This collection is also based on purple tones.
Here is the promo image of the collection: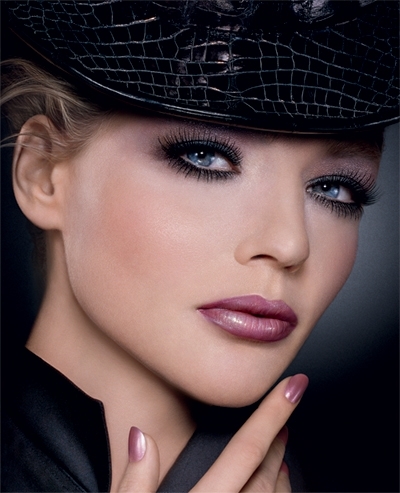 Collection includes:
2 Colors Edition Collector – this is a star product of the collection which is a product that includes black and silver shadows with Dior logo
# 5 Colors eyeshadow palette in 844 Misty Mauve
# 5 Colors Designer palette in 808 Pink Design
New shades of Sérum de Rouge
New shades of Dior Addict lipsticks
New shades of Dior Addict Ultra Glosses and Lip Maximizer
Mascara Diorshow 360 –which is not really a vibrating mascara, it's a "swirling" mascara
Mascara Base – Diorshow Maximizer
So what do you think? Anything you would like to try? If you love purple, lilac and pink – you should really check out this collection!