Here is a preview of the Dior's summer 2014 makeup collection, Transatlantique, which has a strong nautical theme. Different shades of blue, gold and orange. Plus some gorgeous face products: Nude powders and primers.
Below you can see an overview of the products.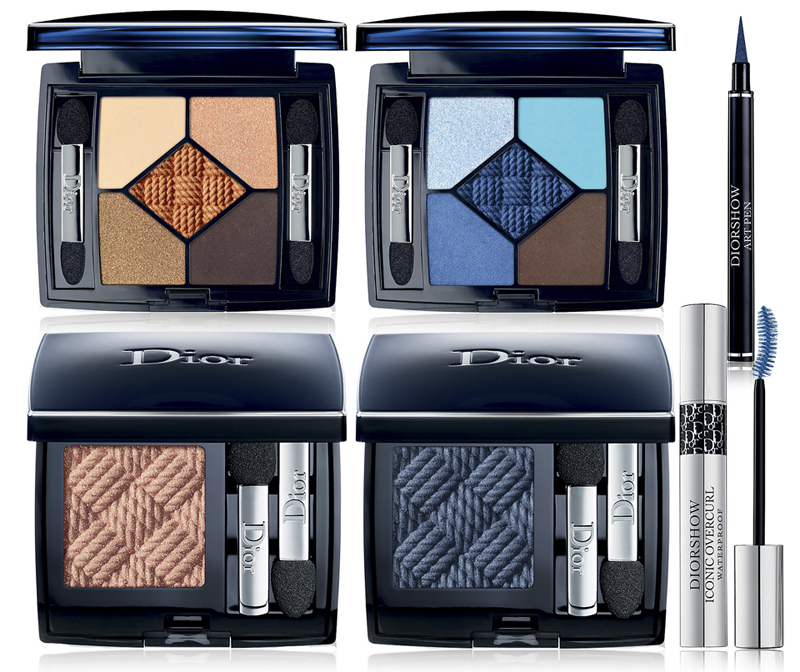 Eyes
5 Couleurs Transat Edition, £41
564 Sundeck
344 Atlantique
Diorshow Mono Transat Edition, £24.50
541 Pavillion
261 Cabine (navy)
Diorshow Art Pen Bleu Croisière, £24.50
Diorshow Iconic Overcurl Waterproof, £24.50
Face
Diorskin Nude Tan Transat Edition, £40
Instantly enhances your skin with a shimmer of gold.
 Diorskin Nude Tan Prime & Bronze Matt Skin, £28
" From the first application, its light and ultra-fresh texture, subtly tinted, primes the skin for bronzing make-up and enhances the complexion with a light tan to create the illusion of a natural healthy glow.After one week of application, its progressive self-tanning effect bathes the complexion in a bright, even and perfectly natural-looking tan."
 Diorskin Nude Tan Prime & Bronze Light Skin, £28
 Diorskin Nude Shimmer, £38.00
"A subtle combination of mother-of-pearl and pigments, Diorskin Nude Shimmer can be used as a light veil on the rounded areas of the face to catch the maximum amount of light and create a naturally dazzling glow. "
Lips
Dior Addict Gloss, £22
642 Seafarer
412 Offshore
Dior Addict Lip Maximizer Fresh Pink, £23
Dior Addict Lipstick, £24
651 Mayday
211 Sunlight
571 Windrose
611 Cruise
 Nails
Manucure Transat, £22
210 Yacht
700 Sailor
750 Captain