If you follow me on Instagram or read my About section – you have probably noticed that black and red are my favourite colours. I can never have too many black clothes or too many red lipsticks and nail polishes.
I have written about that so many times, but today I want to share my latest red lip combo obsession which I have discovered "by accident " and have been wearing for weeks now. It is the red  that I have been rocking all holidays. I even included a photo…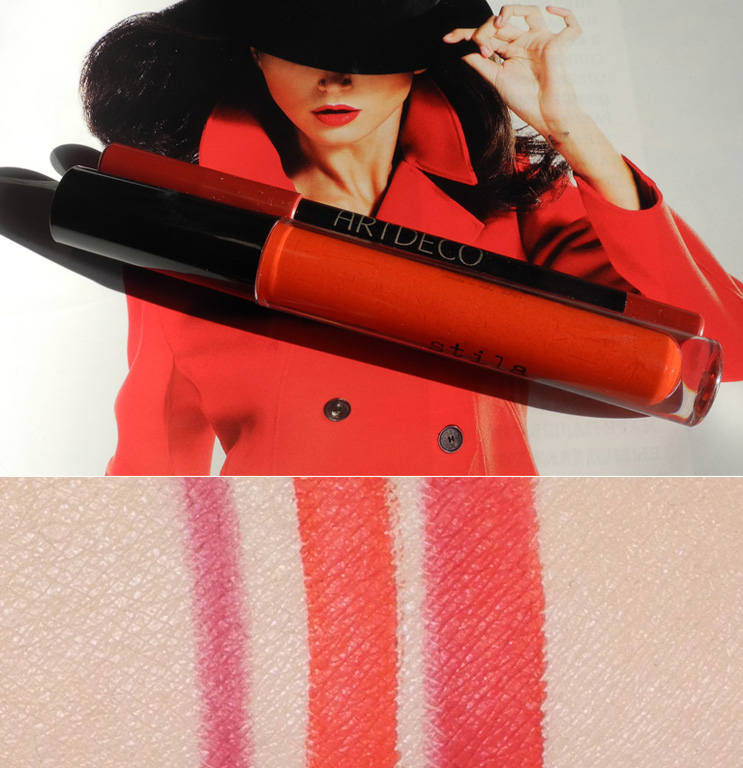 So what are the products?
ArtDeco Soft Lip Liner Waterproof in #8 (review and swatches) (It is available for £8.40 from Beauty Bay.)
I have shared my love for this so many times… I like how long lasting and matte it looks, and the deep cool toned red. But I just wanted something brighter and warmer. So I have decided to put Stila Stay All Day Liquid Lipstick in Tesoro (review and swatches;  £15/$22. You can buy Stila from Sephora and Beauty Bay. Sephora) on top. On its own Stila is too warm and orange for my complexion. But together it was a dream-came-true combination.A classic matte, vibrant, full-on red! Show stopper, if you want.  It also lasts for hours and hours.
Just don't layer on too much and make sure that your lips are in a good condition, otherwise all the imperfections will show up.
Nails are Marc Jacobs Lola if you are wondering, my favourite red.
You don't need to have ArtDeco and Stila to try it. Just use any long-lasting lip pencil and matte liquid lipstick on top for  that effect.
This is exactly why I love makeup. You can experiment, and have fun with it. And no matter how bad you are feeling – a good lip colour won't change it all, but will definitely make you feel (and look) better. Speaking from experience here.