It is better late than never, right? So here is finally a feature on my favourite beauty products of 2017.
Here is actually a look back on my 2015 favourites and 2016 Makeup Favourites. I am still obsessed with those products, by the way. And a link to my 2017 monthly beauty favourites. While in 2015 and 2016 I wrote about makeup only, this time it will be about beauty in general. I have chosen 17 products.  Some of the products I loved the most were LE (  Clarins shadows, bronzers for e.g) so here are only those that are still available.
Makeup
Rouge Bunny Rouge SERENE LIGHT Skin Perfector 
This is probably the product of 2017, and it was also in my 2016 favourites. I have been promising to write a detailed feature about it for  a while now, and I will definitely do it in the near future. Basically this base gives you the most incredible glow, you get that polished and well-rested effect, dry skin's best friend. It does not give that much coverage, as it is a primer, but I wear it without any foundation on top.  Stay tuned for the photos.
2. theBalm  Balm Desert  (buy from  ASOS, Feel Unique and Sephora.)
I've hit the pan on this product, and will use it all up. I love how it is called  bronzer/blush, and it is exactly that, it has a nice balance of warmth and reddish undertones. Perfect for adding colour and definition to your face. I love the texture, the formula an the pigmentation. The staying power is also impressive. See the swatch in the middle.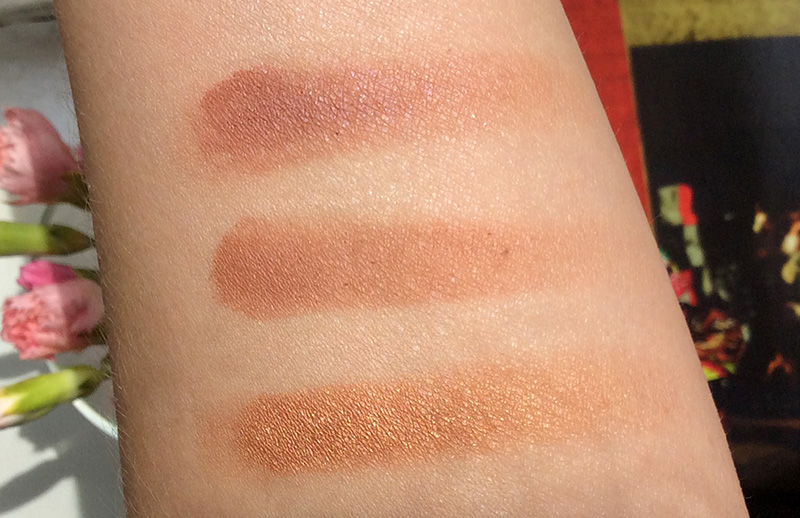 3. Clarins Graphik Ink Liner (from Selfridges,Harrods, Escentual.com,  Nordstorm,  Sephora, Bergdorf Goodman)
I am very picky  when it come to eye liners, it has to be a very specific tip and formula for me to like it. And this Clarins one is absolutely incredible. The best purchase. The tip is a great shape, not too thin or thick, the colour is ultra black and glossy, the formula is long-lasting. Incredible.
4. Daniel Sandler Watercolour Liquid Blush in Golden Glow ( from Daniel's website or  from Feel Unique and Amazon.)
As usual, my favourites list would be incomplete without Daniel's blusher. This year I have been loving Golden Glow which he describes as "a warm bronze shimmer" the most. I have written so many articles about these gems so just take a look back.
5. Givenchy Mascaras ( Neiman Marcus, Barneys, Harrods, Sephora, Escentual and Nordstrom.)
I have have bought 2 Givenchy mascaras last year and was obsessed with both,  especially the Brown Givenchy Noir Couture Mascara one, it is one of the best mascaras I have ever used, and that brown was just the best shade ever, would definitely buy it again. I also like the cult ball-shaped Givechy Phenomen' Eyes Mascara in Deep Black.
6. Bite Beauty Amuse Bouche Lipstick in Gazpacho  (from Sephora.   Amazon and Amazon UK)
This was a present from a friend who knew I'd love it, and she was right. The most incredible shade of red ever, comfortable formula and  finish. If you are looking for a red lipstick, I would highly recommend  Gazpacho.
7 Сharlotte Tilbury  Light Wonder Foundation in  2 Fair (from Cult Beauty)
This was my favourite foundation of 2017, lightweight and not heavy, it still gave me some coverage without being noticeable on the skin. I have very dry skin and a lot of foundations just enhance all the dry patches, and this one did not do it. I also loved the fact that it did give some luminosity, as promised.
8. Rouge Bunny Rouge  Pristine Light Light Corrective Eye Primer
Never thought I would include an eye primer in my yearly favourites but this one is just superb, and it is the one I actually use, it makes any eye shadow last longer, like literally the product would not move for the while day and look more intense, creates extra depth and dimension if that even makes sense. But then again, I do not have oily eye lids so this is how it works for me.
9. Rouge Bunny Rouge Glassy Gloss Sweet Excess in Raspberry Meringue (review and swatches)
My favourite lip gloss ever, I have used at least half of it  at this point, it feels really nice on the lips, has a lovely scent and keeps my lips in a good condition. But it is all about the shade for me.  Raspberry Meringue is described as "pale pink with very soft mother of pearl micro-shimmer – this shade doesn't give a strong colour, but it makes lips naturally pretty", and I can't get enough of it, it goes with everything, and it is my favourite kind of lip shade. The swatch of it is last on the photo above.
Beauty
10.Jo Malone  Colognes ( Selfridges,  Neiman Marcus, Nordstrom and Saks)
This year I have been into Jo Malone colognes more than ever before, I have used up several bottles, and got refills.  My favourites would have to be Lime Basil & Mandarin for SS months and Red Roses for AW months. You just can't go wrong with Jo Malone.
11 Clarins Detox Booster (from Selfridges,Harrods, Escentual.com,  Nordstorm,  Sephora, Bergdorf Goodman)
Clarins promise that their Detox booster "Restores radiance of a dull complexion. Detoxifies and plumps the skin", and I can definitely confirm that it works miracles when it comes to giving radiance to the skin. I was all about the Energy Booster at  first but it is the Detox one I love the most. A few drops of this mixed with a night cream result in a glowing face the next morning. A little goes a long way, too.
12. L'Oreal Extraordinary Clay Shampoo for Oily Hair (from Amazon)
I have been struggling with not washing my hair every day, and this shampoo helps a lot with that, I like it a lot better than a lot of my high end shampoos, it leaves the hair clean and fresh for several days. Finally!
13. ID Hair By The Sea (Amazon, Amazon UK) will not be a surprise, as I have featured it many times already. I am a  huge fan of the sprays that give volume and texture, and this one is fantastic. It gives that matte texture without making the hair looking too dried out.
14. Olivia Garden Ceramic + Ion Supreme Hair Brush (from Amazon and Amazon UK)
Believe it or not but I never had a proper hair brush in my life, so it was about time to invest in one.  I did want to get Mason Pearson but in the end decided to start with  a cheaper option – Olivia Garden (never heard of this brand to be honest, I just like the look of it so just bought it). And it is really awesome.  Now that I am brushing my hair twice a day, I have an impression that it does look a lot nicer.
15. Clarins After Sun Shimmer Oil (from Selfridges,Harrods, Escentual.com,  Nordstorm,  Sephora, Bergdorf Goodman)
I am obsessed with body oils, especially the shimmering ones for summer, can never get enough of them.  This one smells nice, adds that beautiful/polished glow and does not feel greasy at all.  Here is a review.
16. Nivea Body Creams
I have very dry skin so go through body creams/butters like it's nobody's business.  And in 2017 I have rediscovered a thrill that is cheap but effective body moisturizers. I think I have used up 3 Nivea bottles, and already have new ones waiting in my bathroom.
17. Eye Brow Products And Skincare Updates
Ok, so #17 is not about a particular product but more like a general update.  I have been very into my eye brow products this year: Rouge Bunny Rouge, Hourglass, Clarins, Benefit etc.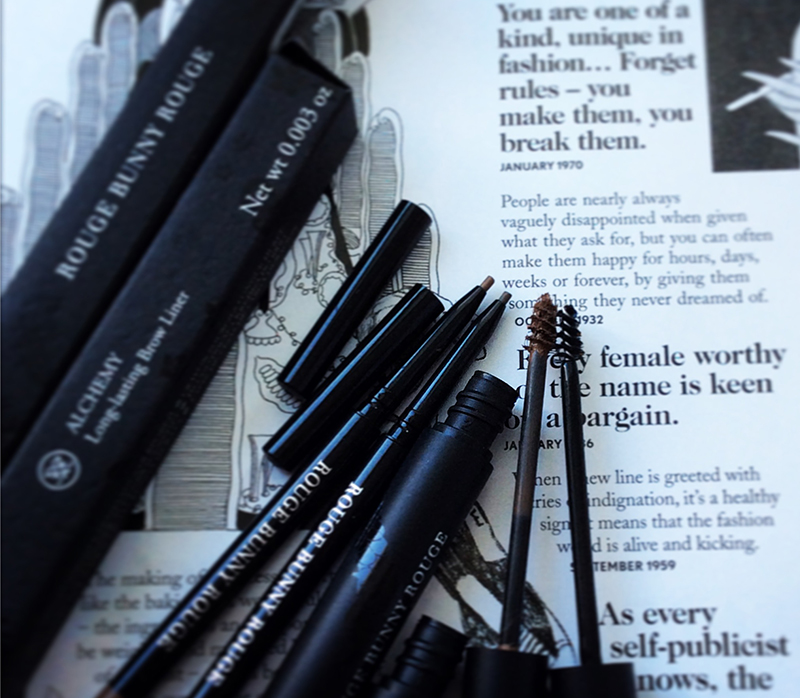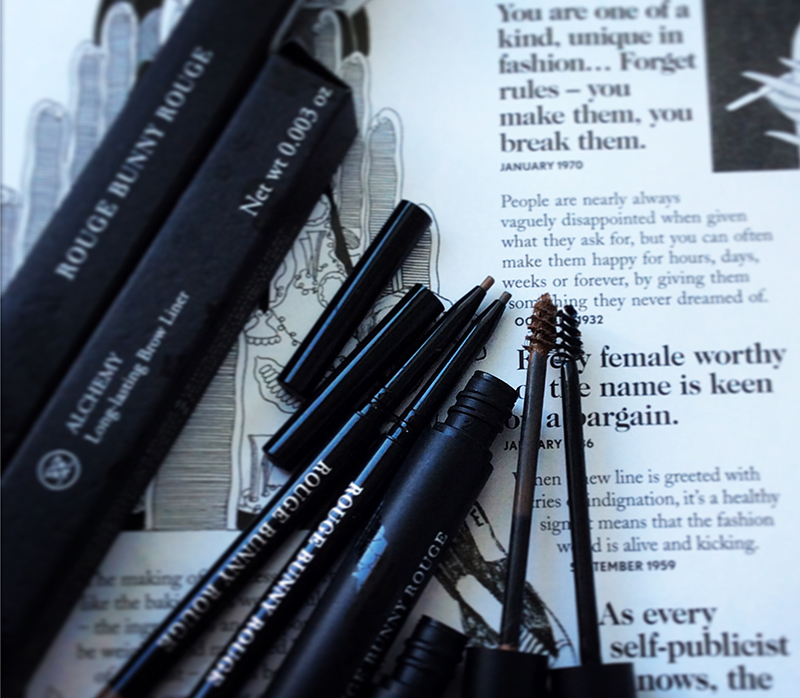 I have also started visiting cosmetologist on a regular basis, invested in some good skincare products, and finally started seeing other beauticians on a regular basis. Maybe I should write about it in more details?