If you follow me on Twitter , you probably know that I was desperate to find any information about the makeup used on Pan Am. But it did not bring any success, unfortunately.
This is why I was extremely happy to recieve this information the other day!
I just have to share it with you:
Patricia Regan, the head make-up artist for PAN AM, worked closely with Chad and Scott, owners of 3 Custom Color, to create a working palette for the show inspired by the 1960′s stewardesses handbook that, amongst other things, required the gals to 'Wear a defined eye and coral lips and cheeks'.
"My inspiration comes from extensive photographs of 1963—fashion, documentary, and people, as well as Pan Am history," says Regan. "I try to combine the style of the past and with the tools of the present to give a fresh new look!" Here's how she achieved it.
Kelli Garner as Kate at Pan Am
1) Apply a matte-finish foundation, plus I love to use the 3 Custom Clarifying pencil on the inside step to really brighten eyes.
2) Brows are an important part of this look, brush and groom them to define natural fuller shape, fill in and extend a touch with a matching brow shade.
3) Apply eye shadow – in Cool Sky, Cool Celery – both used on Margot Robbie & Karine Vanasse or Warm Lilac – used on Christina Ricci & Kelli Garner – all over your eyelid to just above the crease.
4) Draw a line along upper lashes with either the black or brown Opaline Eyeliner.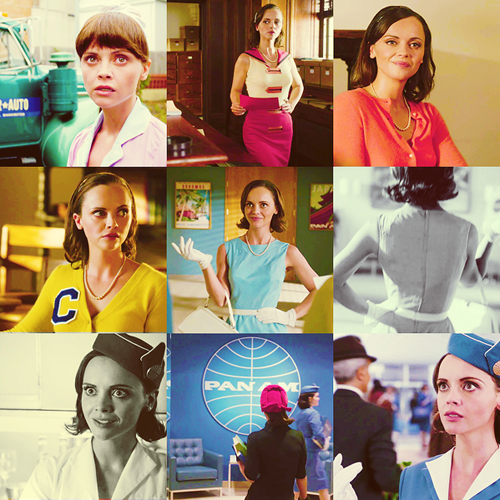 Christina Ricci as Meggie; Tumblr
5) Apply a couple of layers of mascara, for extra drama, try a couple of individual false lashes on outer corners!
6) Add a generous sweep of cream blusher to the apple of the cheeks. I used the Three Custom Color Lip & Cheek Stain in Poppy on all of the stars. This is the coral we mixed specifically to match the look in the PAN AM manual.
Karine Vanasse as Colette
You can get all the products that were mentioned at Cult Beauty.
Looks like I need that Three Custom Color Lip & Cheek Stain in Poppy in my life!
Margot Robbie as Laura