Believe it or not, but we will start seeing Spring 2013 makeup collections in December/January which is not that far away so  maybe it's time to take a look at some of the them?
Today I want to show you Givenchy's  Hotel Privé collection which, according to Nicolas Degennes (International Artistic Director) is a collection that "conveys a subtle, natural elegance. Colours that express gentle pleasure and cosy intimacy. Textures that are easy to use. The very definition of refined, low-key luxury."
The inspiration for this collection were the various French hotels Mr Degennes stayed in, their atmosphere, colours, materials, the feeling of comfort they give.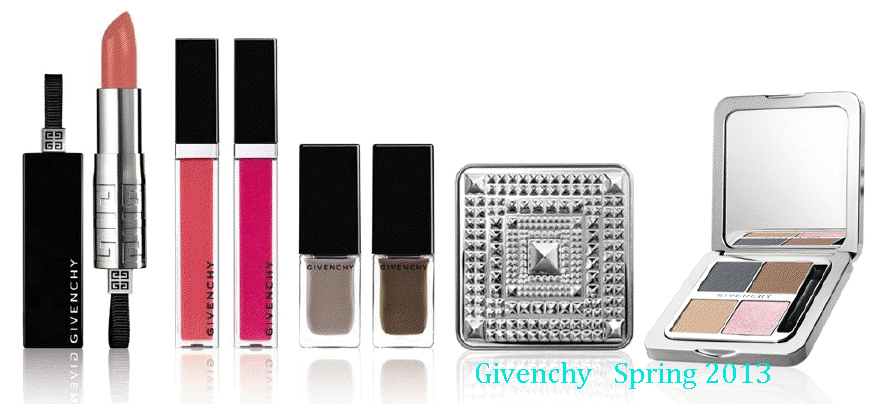 The products are:
ÉCRIN PRIVÉ Eyeshadows, £46
This palette looks very luxurious, although I personally do love the signature prism design of the brand. There are three (mica free) mattes shades:  taupe, grey and natural beige. The fourth shade is a  iridescent rose milk pink highlighter.
ROUGE INTERDIT, £21
N° 59 Private Peach, pinkish beige
GLOSS INTERDIT, £19.50
N° 35 Private Rose
N° 36 Private Fuchsia
VERNIS PLEASE !  £13
 N° 183 Private Grey
 N° 184 Private Taupe
All products are limited edition.
The complimentary products for this look are:
MISTER MAT
LE PRISME BLUSH No. 22 Vintage Pink
PHOTO'PERFEXION LIGHT No. 4 Light Beige
NOIR COUTURE No. 1 Black Satin
PHENOMEN'EYES No. 1 Phenomen'Black
ROUGE INTERDIT No. 1 Only Beige
This collection will be available from 21st January 2013
I really love the combination of the eye shadows in the quad and all the lip products, especially the glosses.