Meteorites by Guerlain are already a cult product and don't even need an introduction. In fact, this year Guerlain celebrate the 25th Birthday of their  famous powders.
I was given the latest edition – MÉTÉORITES PERLES DU DRAGON (£37.50 / €48) from Guerlain's Christmas collection to show you.

I really love the packaging,  one of my favourite edition, you know how much I love black!
The shades are:  "pale pink and beige to even out the complexion, white and gold to illuminate, plum and rosewood to brighten areas of shadow and erase fatigue."
Meterorites give your skin a beautiful and healthy sheen, I have written about it here in details. Unfortunately, I don't really have time to use them that often in the morning, as I am always in a hurry and this  product should be used on a perfectly preped skin.
Here is how all the shades look like:
And here is every "pearl" separately.  And, wow, I LOVE using the plum shade separately as a blush. I usually take that that one "pearl" and rub on my skin (although you can take out the plum pearls and use it with a brush but the effect will be subtle). This is the exact shade that I was looking for, I love it so much. People who have NARS Sin, do you think it is similar?
You can do the same with other shades, too: use darker shades as blush and lighter shades as highlighter. Or, of course, use them all together, as the brand suggests.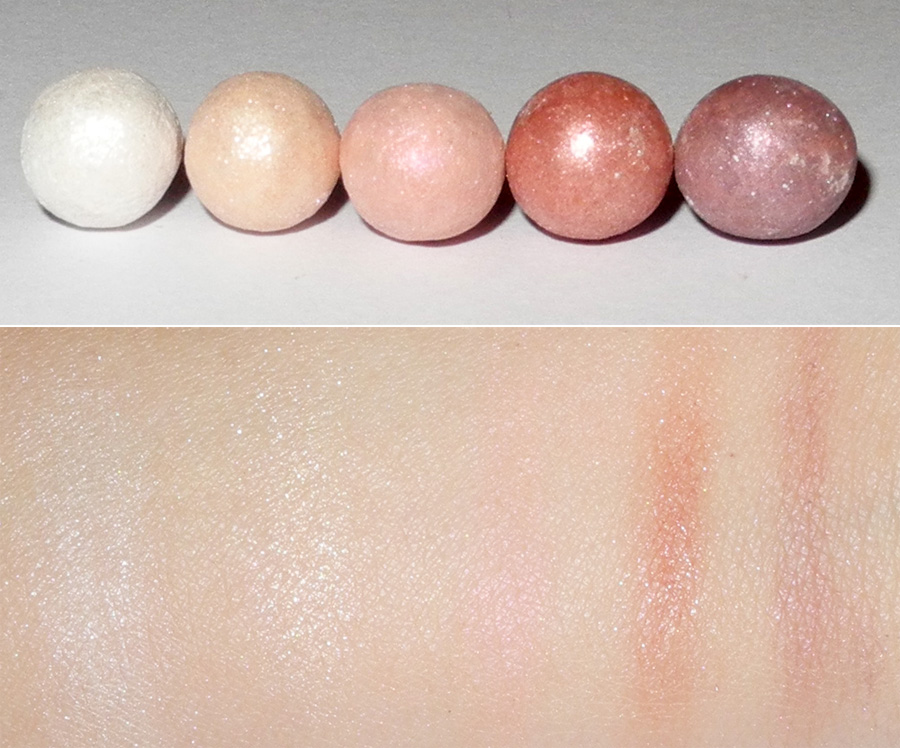 As you can see, you have quite a few variants on how to use this product which is so much fun.
And, boys, if you don't know what to get your wife/girlfriend for Christmas (or just because you love her) – this is a prefect option. Guerlain Meteorites Perles Du Dragon is a  beautiful, high-end product and the price would not break the bank. Plus a lot of  women collection these.
I personally was very happy to get this set with meteorites as a gift from my BF several years ago, that was a very thoughtful gift (although I did ask for it, ha!).