Terracotta Eau sous le Vent Soothing Moisturizing Mist $55.00
A delicious mist that improves hydration in the skin and amplifies the tan while enchanting the senses with a sun-soaked scent. Its refreshing texture is enriched with a vegetable protein to bathe the skin in softness and protect against the dryness and heat of summer. Moisture levels in the skin are increased up to 35% as the Tan Booster complex simultaneously works to enhance and prolong your tan day after day.
Terracotta Huile du Voyageur Nourishing Dry Oil SPF 8 $59.00
Sensuous and nourishing this silky-light, dry oil leaves the skin with a divinely smooth and luscious finish. The lightly perfumed scent of the Tiare flower immediately takes you to an exotic, faraway paradise while the oil's Tan Booster Technology and Roucou, a reddish-brown vegetable pigment, intensify the golden colour of your skin. The soft, satin finish is radiantly accented with an iridescent veil made of golden mother-of-pearl particles.
Gloss Cashmere Velvet Matte Gloss $28.00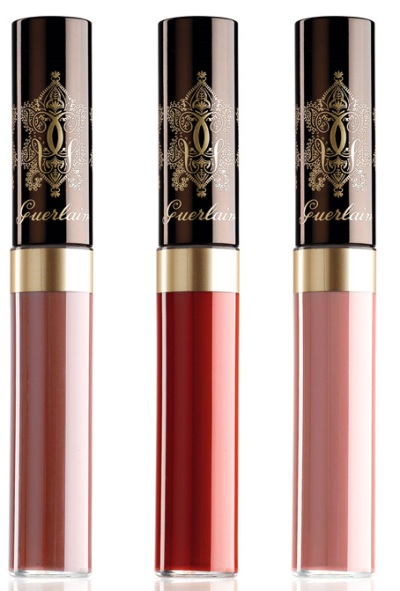 Combining the lightness of a gloss and the velvety matte finish of a lipstick, it envelops the lips like a second skin that is comfortable, velvety and non-sticky. As soft as cashemere, it covers the smile with colour that is matte and intense.
Available in 3 shades:
Rose Pondichery
Beige Bengali
Rouge Sultan
Fard Indien Mineral Eyeshadow  $35.00
A loose mineral powder for the eyes with intense colours that melt onto the skin for a shimmering, radiant finish. The eyes appear illuminated, glowing and exotic.
Available in 3 shades:
Paradise Sand
Holy Smoke
Jungle Dust
Kajal Mineral Khol (LIMITED EDITION) $35.0
This rich, ultra-smooth stick glides colour onto the inner rim of the lower eyelid with a high concentration of pigments that emphasizes the eyes with a new intensity.
Available in:  Black Fakhir
Terracotta Baume au Coeur High-Shine Soothing Lip Balm $30.00
Three natural ingredients, wild mango butter, marula oil and luffa oil, combine to create a highly moisturizing and protective formula. The luxurious texture is enriched with micro-sponges that glide onto the lips and plump them with moisture. Three shades were specially created to enhance the lips' natural colour, making delicious accents for a glowing tan all summer.
Available in 3 shades:
Rose Venus
Coeur Caramel
Cocoa Love
Inspired by the colours in the warm glow of the earth, this groundbreaking bronzing powder harnesses the unifying power of minerals to offer an incredibly natural-looking tan and a flawless finish. Without a trace of coverage, skin will radiate with a natural glow all day as the super-fine powder glides and melts into the skin instantly and invisibly.
Available in 3 shades:
01 Light
02 Medium
03 Dark
Kabuki Brush ($52.00)
Elegant and delicate, with a handle in lacquered wood, the Guerlain Kabuki brush is incredibly dense with high-quality goat hair. As a result, it can pick up more bronzing pigment than any other brush, which it "crushes" and smoothes generously onto skin for optimal, uniform results.