Chris McMillan, the star's longtime friend and stylist, spills
What was Jennifer's hair like when she first came to your salon?
I've been doing Jennifer's hair forever. When I first met her, she had long, one-length hair with bangs, and she was like, "Don't cut my hair—I want my hair long." But I'm a hairdresser, so I obviously cut her hair and told her she needed to grow her bangs out. I cut a couple inches off and layered it from her bangs down to the ends. Then I taught her how to pin the bangs over with a bobby pin and make them flat—remember how everyone was doing that on the first year of Friends? Six weeks later, she came back to the salon for another haircut—her bangs were longer, and we just cut a little bit more off her length. The next thing you know, her bangs were down to her chin, and the rest of her hair was at her shoulders in these long, loose layers that sort of flipped out—and that's what we called the Rachel.
What was the Friends hairstyle inspired by?
I'm always inspired by other hairdressers, models, fashion, and magazines like ELLE. For the Rachel, I was inspired by a model named Beri Smither—Ward Stegerhoek did her hair at the time. She was wearing this really great shag haircut—it wasn't the Rachel, but it inspired me. These days, though, Jen likes her hair on the longer side with her layers grown out.
What's Jennifer's natural hair texture?
She has naturally wavy, medium-texture hair, and she has what you would call good hair—it goes curly really easily if you scrunch it, and if you blow-dry it straight, it stays straight but with body.
What shampoo and conditioner does she use?
She loves having her hair shampooed fresh and clean. She shampoos and conditions pretty much every day—if she's going for the day-old-hair look, she prefers to create it using products. The shampoo and conditioner she's using right now are my shampoo and conditioner. I used her and Courteney Cox as my guinea pigs. Jennifer uses the products every day. She also loves deep conditioners—I'll do professional treatments at my salon using Shu Uemura products.
What hair products did she use before she came to you?
Oh, God, we used to laugh—she loved Aussie 3 Minute Miracle back in the day. We would use that stuff. We loved the smell of it. They also have that Aussie Sprunch Hairspray—we'd use that, too.
How does Jennifer keep her hair looking great between salon visits?
I cut her hair religiously every six weeks, but between visits, she takes care of her hair, she really does—she doesn't rip through it when she brushes it after a shower. And she lets her hair dry on its own when she's not working. She likes to wear her hair natural, and she's good at styling it on her own.
So how would you describe her hair personality?
She's not one to say, "Oh, I want something really funky." She likes pretty, sexy hair. "Pretty" to me is adding texture, and "sexy" is undone-looking hair. If you look at her hair, it looks like it grew out of her head like that—it doesn't look like a curling iron touched it. We never use curling irons or flatirons on her hair. We always try to work with her natural texture and use round brushes to give a soft curl. The modern sleek look can be good for photo shoots, but when Jen's walking the red carpet or doing press, she feels more comfortable with natural-looking hair.
When it comes to red carpet updos, what sorts of hairstyles does Jennifer like?
She likes ponytails or really quick natural-looking buns—ones that look like she did them herself. And, you never see this, but off the red carpet she really likes wearing low, loose braids on both sides of her head. She's a real down-to-earth girl—she loves the beach, loves nature, and loves animals.
How do you style Jennifer's hair curly?
For the ELLE September cover shoot, I used Shu Uemura Depsea Repair Foundation Essential Hair Prep at the crown of her hair and Bumble and bumble Surf Spray at the ends. Then I do what I call a "bad blow-dry." I vary the sizes of the round brushes—twisting the hair around them—so that I leave the hair halfway dry, halfway wet. This way, I pull the curl out but allow the hair to go into its natural form. The Surf Spray really helps to add texture to the hair—it gives it that day-old-hair look on the same day.
Why do you use different-size round brushes?
Because around the bottom of the hair, we like it to be longer—so I use a large round brush there. Around the front, I use a longer one, and at the crown area I use a smaller one because it creates fullness. I always blow-dry the roots straight—about two inches—and let the ends be a little curlier. I also like to blow-dry the hair around her face with a few strands tucked behind her ears. When you untuck the hair, a nice frame is created around the face.
How do you style Jennifer's hair straight?
When I blow-dry her hair straight, I like to use Shu Uemura Essence Absolue Oil—it's brand-new, and unfortunately it's only available in the UK, but it's awesome. Shu Uemura sent me some of the product six months ago, and I've been using it on Jen's hair ever since. I just pump a pea-size drop into my hand, rub it through the ends of her hair while it's damp, and blow-dry it straight using a round brush.
I don't use any of the Essence Absolue Oil in the root, though, because we like the roots full—she's not liking her hair really bone-straight anymore; she likes it with some wave. Sometimes we'll bend the brush a bit and add straight waves so that it's smooth and straight but not flatiron-straight. Once I'm done blow-drying, I use a tiny bit of the Essence Absolue Oil to add gloss and texture at the ends.
What inspired you to give Jennifer the bob haircut that she had between 2000 and 2001?
I'm always inspired by iconic women—anyone from Mia Farrow and Julie Christie to Brigitte Bardot and Peggy Moffitt. Faye Dunaway's hairstyle in Bonnie and Clyde was the inspiration for Jen's bob. It was fun—you know she likes to chop her hair off about every five years. We'll even her hair up and lop off a few inches. She's actually overdue for a short cut—we'll probably be doing that soon. But it won't be because of trends; it's because she finished three movies, she has a lot of press to do, and it just makes the hair really nice, thick, and full. We wouldn't do the same bob as before; we'd do something a little different.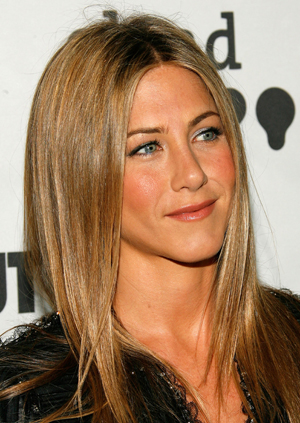 How have Jennifer's hairstyles evolved through the years?
They've changed slowly, via texture and length. I know that it appears as though her hair hasn't changed much over the years, but if you look at a timeline of her hair, you'll notice that she's always on trend—for example, we'll change her part to the side or down the middle or we'll pull it back in ponytails. That's her thing—she likes to be comfortable but trendy. Even if she's wearing a simple black dress, it's going to be the newest black dress.
She doesn't feel the pressure to take fashion and beauty risks because she's more concerned about other things. She loves her house—she just built this amazing house. She loves her dog, she loves her friends. She's always like, "I'm having a pizza party tonight—come over," you know what I mean? Those are the things she has fun with. Not only is she a great client and fun to work with, but she's also one of the greatest friends I have. She seriously is—she knows how to be a friend, and she has taught me how to be friend. I'm the luckiest person in the world.