I posted recently that I wanted to try Jordan Samuel's body oil, and here it is with me finally.
I actually did not order it myself but it was a very thoughtful present  from my husband. The brand is available from Cult Beauty but not the new  Italian collection yet.
So I would recommend waiting (if you live in the UK), unless you are willing to pay the shipping  and the tax, which came up to the same price as the actual product.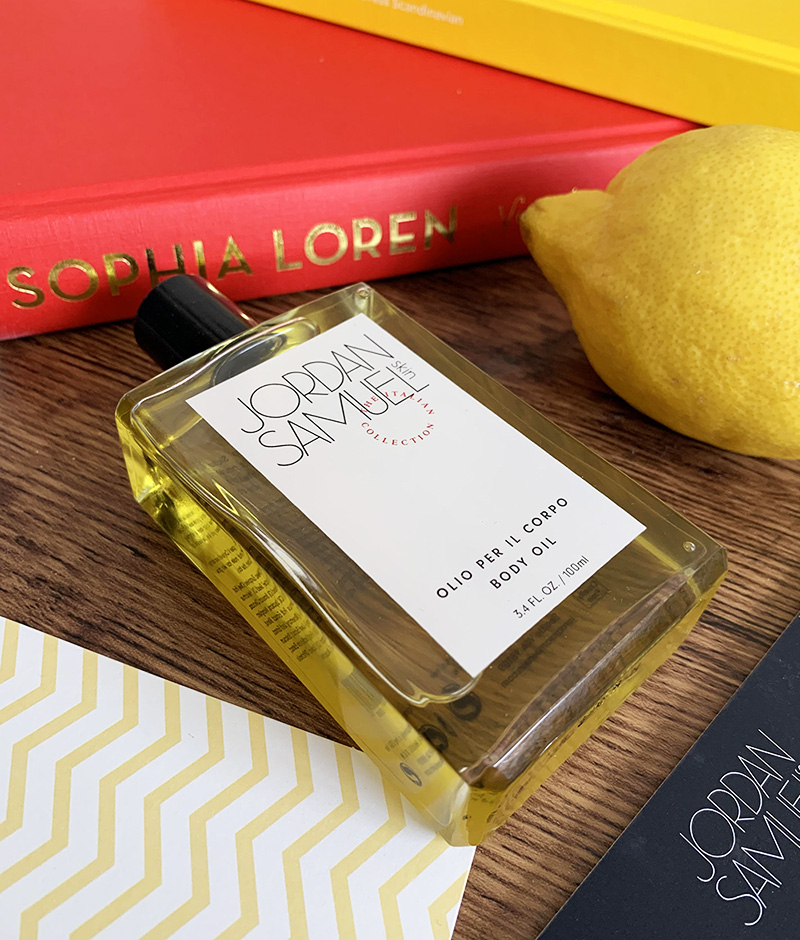 All that aside, I am very pleased with my first Jordan Samuel Skin product.  I think $32 is a great price for a 100 ml of a body oil which looks so chic and has great ingredients (see the photo below).
 Olio Per Il Corpo comes in a sleek glass bottle with a beautiful and simplistic design.  I also love the fact that it was full to the top. You get exactly 100 ml. Some brands need to learn from this.
I read that it smells of an Italian summer and like "Sophia Loren in a bottle" hence the book about her in the photo. And this is exactly what I needed –  a pick-me-up beauty product for summer. 
While I thought it would have  an intense zesty lemon scent, it has a delicate fruity  fragrance.  I was expecting Luca Turin to be horrified by my abilities to identify fragrances but checking the label and seeing mango on the list, made me feel better. And it does make sense, there are  enough of citrus-blast type of products already so it's a cool idea to have something different.
The scent is not too strong, at least I think so, and won't interfere with your perfume. 
As for the formula, I really love it. It's a proper oil. I have very dry skin, and am not the biggest fan of the dry barely-there oils. This, however, is nothing like it. It it nourishing and moisturising. Olio Per Il Corpo leaves your skin glossy and smooth, like in those holiday postcards. The only thing is that you have to wait a bit before putting your clothes on.  
While there is nothing as good as being it Italy personally, this oil, inspired by Sicilian countryside, comes pretty close. 
Moreover, I  will definitely be trying more products from Jordan Samuel Skin in the future.