I've wanted to try L'Oréal Paris Color Riche Extraordinaire for some time but just couldn't decide which shade one to get. That was until I saw 100 Mezzo Pink.
You know me, and my love for light milky pink shimmering lip products, they are my version of nude.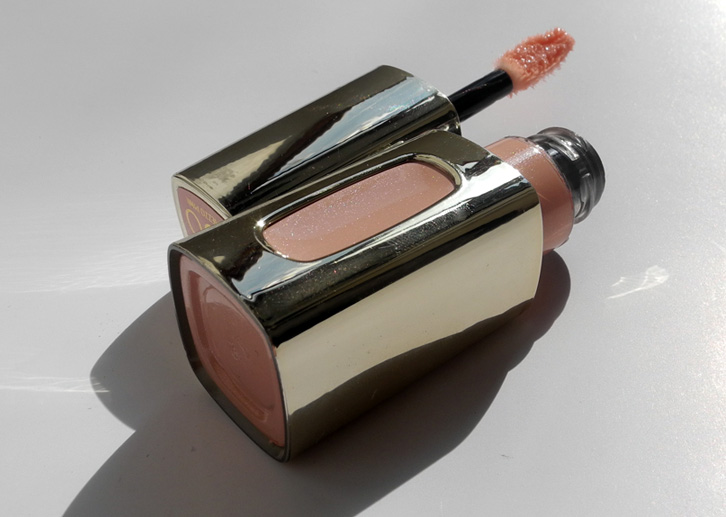 You can already tell that I am absolutely in love with the shade. But what about this product in general? I think it is absolutely amazing, everything about it! Well, to be honest, I am not a huge fan of the packaging but it is not that important.
I like the sponge applicator which is very convenient, and makes it very easy to use the lipstick.
As for the formula, intense shades are like liquid lipsticks, you get a full-on colour with a liquid texture and comfort of a gloss. My shade is like a thick comfortable gloss. By "thick" I don't mean sticky or gloopy, but it feels almost like a balm actually.  I think that is because of the oils it contains – kernel oil, camellia oleifera seed oil and  rosa canina fruit oil. I find  that Color Riche Extraordinaire  softens and moisturizes the lips. They are definitely in a better condition afterwards.
I also like the peachy smell. It is not intense and overpowering but just spot-on.
It is amazing to see how the companies bring out all the innovative formulas now. You don't need to compromise and choose colour or formula.
I have also decided to compare it with my all time favourite Clarins Instant Light Lip Perfector in 04 Petal Shimmer which I use all the time, and it is very similar, as you can see. L'oreal is on the right and Clarins is on the left.
Anyway, L'Oréal Paris Color Riche Extraordinaire  gets a big thumbs up from me. One of the best lip products I have tried in a while, plus it  isbudget-friendly!
I may need to pick up a bright vibrant non-shimmery shade now, too.
You can buy L'Oreal from Feel Unique. Boots. Ulta, Superdrug,