I already made  2 posts about NYWF Spring 2010:
Create 5 Fantastic Looks From NYFW. Spring 2010 by Sephora, NARS, CoverGirl and Revlon, 
Create 3 Fabulous Looks From NYFW. Spring 2010 by Lancome, MAC and NARS
And in this post I'd like to tell you about my favorite look of the week by MAC Pro at Rodarte. You can create this edgy and dark look , hairstyle and "tattoos" yourself. Plus it's Halloween soon;)  So enjoy it!
Makeup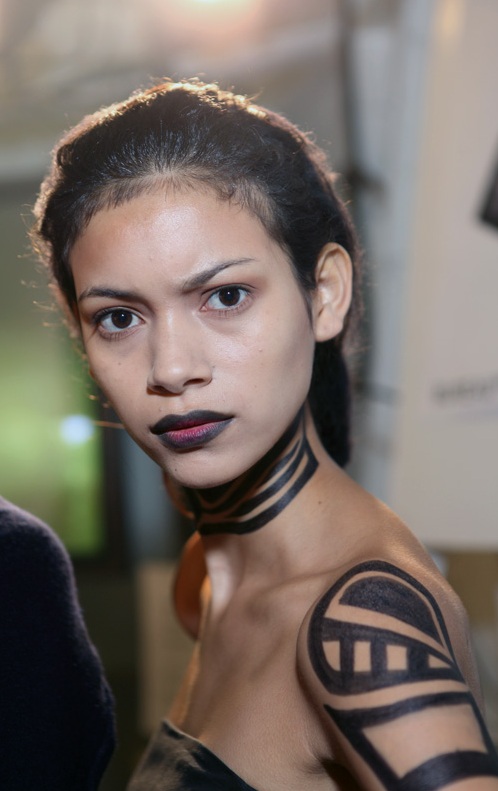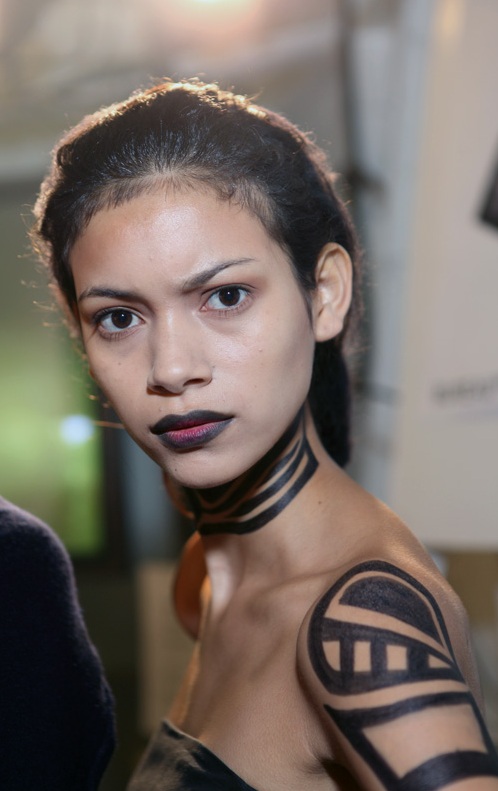 Face and Body Foundation – applied to skin for a transparent, matte finish.
Accentuate Sculpting Powder – used to contour cheeks slightly.
Bone Beige Sculpting Powder – brushed into socket and under eye to slightly contour.
Eyelashes curled. No mascara.
Beet Lip Pencil – applied to center of lips for a reddish-wine stain.
Black Lip Mix and Fast Response Eye Cream – mixed and precisely outlined around Beet Lip Pencil for a soft-edged, transparent and full lip.
Tattoos
PRO Micronized Airbrush in Black Black
Brush 252
Brush 242
PRO Mixing Medium/Alcohol Base
Liquidlast Liner in Point Black
"The idea for the tattoos stemmed from Kate and Laura's desire to celebrate makeup as art not only for the face, but also for the body in a similar way that Indian culture uses henna. They want women to look at makeup as an accessory for an outfit the way you would a bracelet or a necklace," said Chantel Miller.
Hairstyle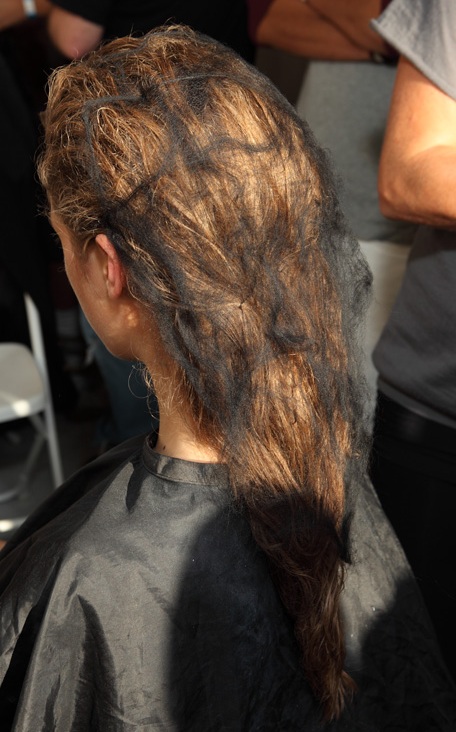 The look is edgy and daring, yet natural, with hair pinned away from the face in a thin veil of black wool. Hair is matte, roughed-up and textured, and raked back into a braid-like cascade.
Step 1: Dampen hair with water and prep with Aveda Phomollient™ Styling Foam to add volume. Scrunch hair with fingers while blow-drying.
Step 2: Sprinkle Aveda Pure Abundance™ Hair Potion generously on hair (using most of the bottle), working in layers, to create matte, roughed-up texture throughout. Massage product into the hair and scalp with fingers.
Step 3: Once Aveda Pure Abundance™ Hair Potion is worked in, scrunch and twist hair with fingers while blowing-drying. Spray hair liberally with Aveda Air Control™ Hair Spray for workable hold.
Step 4: Twist the sides of hair back and secure at ear-level with black hair pins.
Step 5: Prepare a piece of natural black wool by spreading it out with fingers to create a thin veil. Beginning across the top of the head, a couple of inches from the hairline, spread the wool out delicately, pinning it securely in place. Continue draping the organic wool over hair to ends, securing in place with pins.
Step 6: Twirl the wool around the ends and tie into a knot, creating the illusion of the end of a ponytail. Spray thoroughly with Aveda Air Control™ Hair Spray to hold the look in place.
About the Look
About the Look
"Tough be auty coming out of an Edgar Allen Poe poem. A mix be twee n gang girls of early LA and condors – terrifying but devastatingly beautiful." – James Kaliardos
M∙A∙C Senior Artist, Chantel Miller designed the Maori-inspired geometric tattoo makeup seen on the runways at the Rodarte Spring/Summer 2010 runway show today. Chantel worked in close collaboration with designers Kate and Laura Mulleavy and key makeup artist James Kaliardos (for M∙A∙C) over the course of 4 weeks to create the full-sleeve, half-sleeve and neck tattoo designs, which are meant to evoke the feeling of a futuristic tribe.
The morning of the show, Chantel, who specializes in body painting, spent 4 intensive hours with a team of 40 artists hand painting the elaborate body art. Each model received a customized combination of the designs depending on which look they were wearing in the show. There were; 4 different full-sleeve, 1 neck and 8 half-sleeve designs. To get the look Chantel recommends trying a combination of the below products. She says, "Application is key to creating a body-art look like this, so the brushes play an essential part."
More Photos