I have posted about my first experience with MeMe Korean beauty box back in October. And this month I have actually received a new box, called 39 Cafe Edition, which made me very excited, as well.
So I thought I'd share the contents of this one. And of course, in the future, I will review  the products that stood out for me. But right now I am looking forward to trying the donkey milk lotion, sheet mask and a pink lip balm.
Of course, the cutest product is the Holika Holika Dessert Lip Balm. I've got the shade 05 Plum Pink Cupcake which smells divine, and looks too cute. I am lucky that my 5 years old cousin hasn't seen it yet.
Cleomee Anti-Wrinkle Donkey Lotion sounds promising, too, I am currently using the donkey milk soap I've bought it Greece, and it's just the best, dry skin saviour.
Pure Simple Original Mask Sheet , apparently it contains Vitamin E, lavender extracts and hyaluronic acid, should work miracles.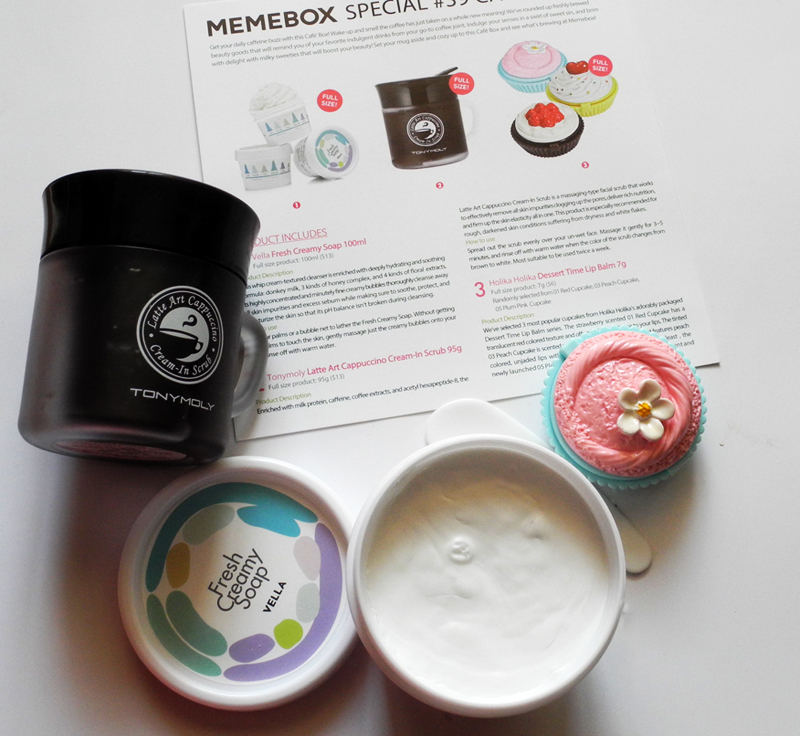 Vella Fresh Creamy Soap, this is described as a hydrating and soothing facial cleanser.
Tonymoly Latte Art Cappuccino Cream-In-Scrub – coffee lovers would be delighted. It smells just like coffee, and looks incredibly cute. After all, Tonymoly is a cult Korean brand for a reason.
Binu Cook Ice Cream Scoop Cocoa Body Soap, now this may not be the best looking product, but the scent  is absolutely delicious.
MeMe Boxes are shipped Worldwide.