Remember my post about MeMeMe cosmetics?
I've actually got one set for myself to try and let you know my opinion.
I've got a Bestseller Gift Box in Pink which includes:
Blush Box in Pink
Light Me Up lipgloss in Illuminate
Long lasting nail gloss in Graceful
All products separately would cost me  £20 but they retail for £15.50 in a set which also comes with a beautiful gift box. But http://www.cocktailcosmetics.co.uk/ (they ship Worldwide) actually had the set for £10 so I've decided to try it.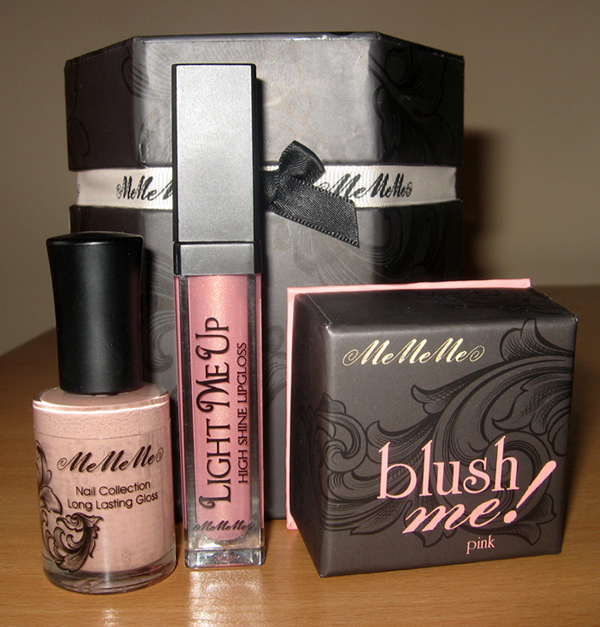 To tell the truth, I think this is a brilliant set for the price! It would make an amazing gift and also would recommend this set to anyone who is just starting their makeup collection. I obviously did not need this set but was curious to try the brand.
Blush Box in Pink
It comes in a cardboard packaging with a mirror and a brush.  It is a beautiful cool-toned candy pink with shimmer. This is a prefect blush for winter in my opinion as it gives just this beautiful 'cheeks after a walk on a frosty day' look.  The shimmer is delicate and looks great in this blush. I really like that the colour is buildable. You can get a very subtle effect but can also 'pack it on' ;).
Light Me Up lipgloss in Illuminate
I was actually expecting a different shade based on the promo photo (pale blue based baby pink) but it turned out to be a pinkish nude with tiny silver shimmer instead.
Light Me Up Gloss really reminds me of the GOSH Light'N Shine lip gloss but it has a sponge applicator and has a totally different scent.  It makes me think of mint  sweets that I always eat.  There is not that much I can say about this gloss, it is a decent quality for the price in my opinion. The light and mirror add some fun to it but I personally never use  it.
Long lasting nail gloss in Graceful
I haven't tried  this nail polish properly yet as I am wearing A England's Bridal Veil this week so I will do a separate post about it. But I have tried it on my toe nail and it looks like a pinkish nude which is opaque with two coats. It also comes with a wide brush which I love.
Here are the swatches of the lip gloss and the blush in the natural light and with flash. The colours are just perfect for an every day look.
These sets also come in Rouge, Bronze  and Coral. But, unfortunately, the Coral one is already sold out at cosmetics.co.uk
I really want to get all the other sets so have to remind myself that I do  need them…
But if you are on a budget or are looking for a nice and not expensive beauty present – definitely consider getting a MeMeMe set!