Like it or not, but Valentine's Day is almost here and it seems that almost every girl I know is obsessed with finding a nice red lipsticks. I can't even tell you how many times during the last several weeks I've been asked about the best red lipstick, and how to wear it…
Plus so many brands have  realised  mini collections with red lipsticks and nail polishes. It seems that red is everywhere. Have you seen this cover of Vogue UK for March?I love red but I wish they used the other colour for the background as it is a bit too red even for me…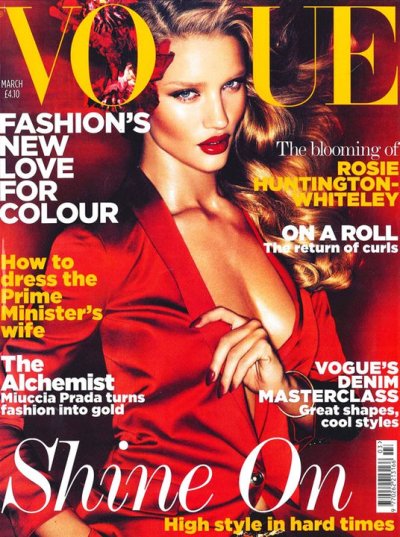 My friends are obsessing about the red lipstick because they actually want their husbands/boyfriends to like it. But do men like red lips? I was really curious to find it out so was asking everyone I could  and asked you on Twitter and Facebook to help me out. So here are some of the responses that I've got:
Answers from my friends (designer and 4 musicians if you are interested). I got many, many more but they are basically the same as these.
I don't care about this at all, but one thing is clear for me. I hate red expressive lipsticks, less is better!! :)I don't know anyone who likes it either:). This myth is officially busted.About the Vogue cover above: "It's too much for me, also they overdid it with Photoshop…"
I like it! But I think it's different for everybody. And maybe for me it's just because of associations. "My girls" don't use it often.
I like it sometimes but it really depends on the woman, her character and the occasion.
I like the colour red but it doesn't look nice on everyone and doesn't go with everything.
Mostly no, but it depends on the woman.
Artdeco Cosmetics Valentines Day red lipstick and nail polish
Some of your answers:
Expressive lips are a no go, all men around me love natural ones, but better is a light pale gloss or balm – no make-up make-up; but anyway I love intense colours and wear them of course 🙂
My brother started giggling and said: "I love women with red lipstick…weird!" Anways my friend says it looks hot and my dad says as long as mum has it on its good!
My boyfriend hates (!) red lipstick on me. That's a pity 'cause I love it with bold brows and a winged out eye liner
Well, for me, it's absolutely no! As far as I know, they prefer a natural lip color where I live. It seems too, that the older I get, a more natural color looks better. But, I love red lipstick. I doubt though I will own any at least for know. The darkest color I have is the Nakkar Chanel gloss from their spring collection.
I asked around for you and got a few replies for you: "On an Asian, yes." " I personally like red lipstick on a woman"," Not particularly, to be honest","natural looking lips with gloss, red is just messy".
Both my boyfriend and my dad dislike red lips!
I know that my husband doesn't like lipsticks at all. This is why I wear read lipstick when he is not around ))
My husband said he doesn't like it either. But I don't care, I like it. He doesn't like makeup period. He prefers "au naturelle" .
I personally love and wear red lipstick, from time to time, but not often as I want it to be something special.
My point is:  if you want red lips – go for it, just be confident about it and make sure that you apply it in a nice way!
I hope you've enjoyed this  post this as much as I did and I'd love to hear your opinion on the topic.