I hope that you remember the post about Guerlain summer 2010 and the new meteorites. I don't have them yet but I have all the meteorites that are available now from the regular line in mini version which I got in Duty Free for $90 last year. But I got mine in Asian Edition, not the regular one.  They are the same but are without brush and with different design.
Mini meteorites with the brush in regular design
When I think about Guerlain the first thing that comes to my mind – Meteorites. It is also a products that every fan of makeup should have. But what is Meteorites anyway?  Guerlain describes them the following way:
"Revolutionising powders in 1987, Guerlain captured Météorites pearls to suffuse the skin with pure light. This was the birth of Météorites, a magical powder in the form of pearls, an explosion of colours in a delightfully stylish and eye-catching case. A new way of applying make-up was born: the brush skims across the beads which glide over each other releasing a remarkably light powder. The alchemy of colours produces perfect results and each colour has a special function."
This is how my Meteorites look like. And I apologize for the quality of the photos , I made them several months ago (yes, sometimes the photos wait for months till I find time to write a review) and wanted to make better photos but I realized that I don't have the package anymore. Although some packages are too beautiful to throw them away I have to do it because I don't even have enough place for makeup itself not talking about the packages.
This is how the design looks like: pastel blue, pink and white with golden oriental ornament. Blue is – 01 Mythic shade , Pink -02 Pink Fresh,  White – 03 Beige Chic.
What are Meteorites for?!
The original 01 Mythic shade combines pink to give a healthy glow, green to diminish any redness, mauve to catch the light, white to brighten the complexion and gold and pearl to create highlights and to add radiance.
02 Pink Fresh: pink shades with a hint of apricot for an immediate healthy glow.
03 Beige Chic: a soft beige combination for a naturally even-looking complexion.
Don't forget that you can take the pearls that you don't like out to get the effect you want!
My opinion and photos of Meteorites
The size of original Meteorites is 33g for $53 and here you get only 7 g x 3 = 21 g  for $90! That's is way too expensive. Add $69 and you get 3 regular sized meteorites.  When you look at the photo you may have a feeling that I've been using these for a long time (especially Mythic) but it is not true. I made the photo when I just got them so you can tell that you get almost nothing. But it's nice to have such edition if you are a collector of meteorites (but I am not) or if you want to have them all (this is my case).
But what about the product itself?
First of all I have to tell you that I don't use powders at all! I told you a lot of times that I have very dry skin so all kind of powders look horrible on me and they also dry out the skin even more. But I like using meteorites. Why and what for? Well they give me a nice, glowy but not shiny effect.  The skin looks perfect when I am  wearing this powder. It looks healthy and beautiful. I heard that people compare the effect Meteorites give with the Photo Shop effect and I have to say that they have a point! The skin looks flawless and polished, especially it looks amazing in sunny weather.
My personal favourite shade – Beige Chic and I use it more often when the other 2 shades. I love the perfect warm glowy effect that it gives to my skin.
I would recommend using Meteorites over the foundation because the effect is much better. It it is  also very important to use it with the right brush. Guerlain has a special one but I use my big powder brush by Lancome and am happy with the results.
Warning! Once you get your first Meteorites you can get addicted. I know so many people that would do anything just to get all the limited editions that Guerlain ever released. They usually get 2 items of  each product one – to use and the other one for the collection.
This is important!
If you want to try 01 Mythic shade , 02 Pink Fresh and 03 Beige Chic  Meteorites you have to do it now because they will soon be replaced by 01 Teint Rose,02 Teint Beige and 03 Teint Dore Meteorites.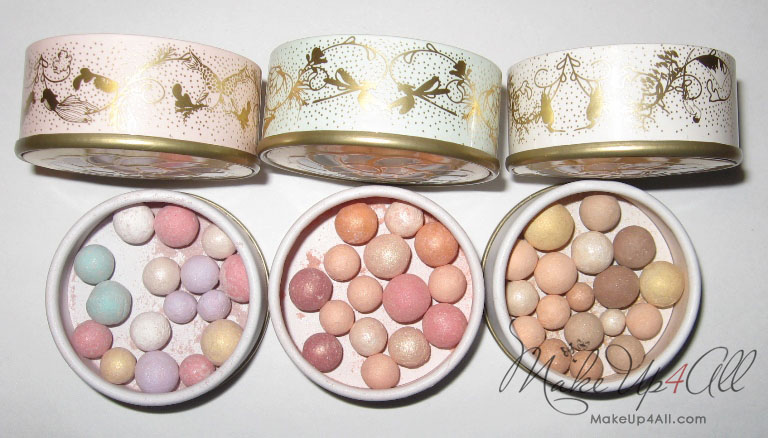 And what do you think? Do you like Meteorites? Are you addicted to them? How many do you have? Which one is your favourite? What is your favourite Guerlain product?