BECCA is one of my favourite brands, as you may know, and I think it's about time I write about my "top 5 products" from the range. Although, it was very hard to narrow the list down only to five items.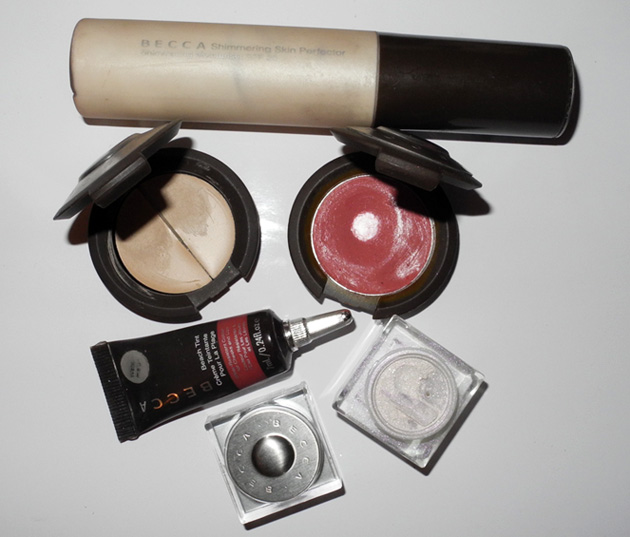 BECCA Shimmering Skin Perfector in Pearl
Of course, this in my number one pick! I don't know how many times I have mention this Holy Grail product already. I have several highlighters but this will always be my favourite. Find out more details about it here.
BECCA Cream Blush in Amaryllis
This may be my favourite blush out of all that I have. And, trust me, I have a lot of blushes. The shade is pure perfection! It instantly brightens up the complexion, looks very natural and is super long-lasting.  More about it.
Beach and Eye Tints
Ok, I am cheating a bit here by including two products but I like the formula of both products, thin but buildable coverage, long-lasting formula and nice colour selection. I have three Beach tints and love using them on lips and cheeks when I need  the makeup to stay there for hours and hours, the  same goes for the eye tint.
Asrai, Amaryllis, Beach Tint in Watermelon, Latte, Pearl
BECCA Compact Concealer in Latte
This concealer is fantastic, with a medium and high coverage  which allows you to "erase" all the imperfections you may have. There are so many shades, that there is one for everybody. Mine is called Latte.
Becca Jewel Dust in Asrai
First of all it comes in the most stylish packaging. But besides that, I think this may the prettiest pigment  out there, a shimmering pinkish lavender.  Can be used on its own or on top of other eye shadows. I always get compliments when I wear it.