Today I am wearing Revlon's Revlon Red, which I had to get after seeing the swatches of it online, and I have mixed feeling about it. I like a lot of products from Revlon and I really wanted to like the nail polish, too, especailly after reading some great reviews.
So why do I have mixed feelings? First of all lets start with the positive things about it!
The colours are really beautiful and there are quite a lot to choose from. I have 2 Revlon nail polishes and they are both very beautiful! The colours are very pigmented and are opaque with only one layer (but two layers give a even better coverage).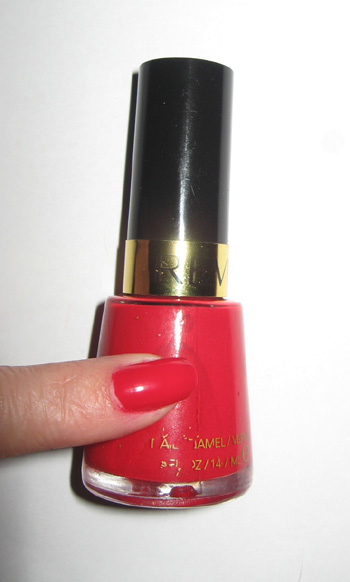 Now this swatch is just UGLY! I know. But I just wanted to show what I mean by saying that I can't manage to use this brush – the nail polish is all over the place as you can see and I can't manage to paint my nails near the cuticle. But the colour however is stunning!  I am showing you only one nail because all the others look the same unfortunately.
And what I don't like about it. For some reason Revlon nail polishes don't stay for a long time on me even after I've used a Seche Vite top coat.  I am also not sure if I like the brush, maybe I just need to get used to it but that is obviously my personal preference. I am not saying that it's a bad brush but for some reason I can't use it without making a huge mess.
I will try to experiment with these nail polishes more and I really hope that they will stay on for a longer time. It is such a shame that it starts chipping on the second day as the colours are SO beautiful.
And for how long does the Revlon nail polish stay on your nails?