Today let's take a look at the new launches in the world of luxury makeup. The first one is the new lipstick by Chanel called Rouge Allure Velvet.
It is a matte lipstick with a light velvet formula enriched with jojoba oil to moisturize the lips. This lipstick will give a rich and opaque coverage.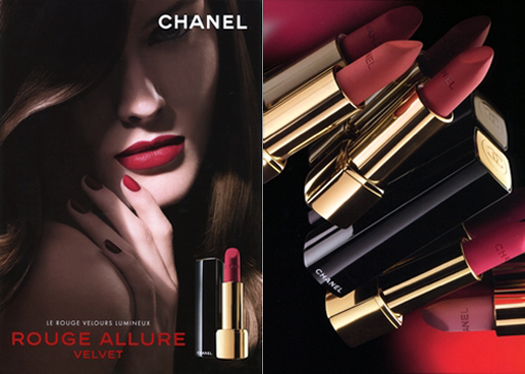 There will be 8 lipsticks divided into four groups:
Beige Troublant(beige): 32 La Ravissante, 33 La Distinguee.
Rose Insolent(pink): 34 La Raffinee , 37 L'Exuberante.
Rouge Magnetique(red): 38 La Fascinante , 39 La Somptueuse, 40 La Sensuelle.
Brun Envoutant(brown): 41 L'Exquise.
To celebrate the launch of the new lipsticks Chanel also introduced three new nail polishes and a matte top coat.
08 Pirate, re-lauch of the famous red
519 Rose Exuberant, bright pink
521 Hidden Rose, a soft, natural shade.
As for Tom Ford, after a successful launch of the lipstick line he now launches the makeup line which, according to WWD will include 132 products with the price range from $30.
This range was created in collaboration with a famous Make-Up Artist Charlotte Tilbury. The design does look luxurious and I have a feeling that the makeup has the highest quality, too.
So are you excited about this new range? Are you ready to pay the price for some Tom Ford beauty?
Both Chanel lipstyicks and Tom Ford Beauty should be out in the end of the summer-beginning of Fall.