I was happy that a lot of readers liked the idea of vintage and onld ads so today I want to share some of my favourite makeup ads.  But they are not vintage, this time but most of them were made within the last 10 years! So here are mine and I would really love to see yours!
I have a lot of ads that I like from the old magazines (I threw the magazines away just kept some photos that inspire me!)
This Guerlain KissKiss ad with Doutzen Kroes was in all the magazines only several years ago and I remember how much I used to love it and how much I used to want this KissKiss lipstick and the gloss(there was one similar for the gloss). Probably my fave Guerlain promo, so much better than Vodianova.
Of course I had to include this one with Monica for Dior. It's quite simple but I absolutely love it!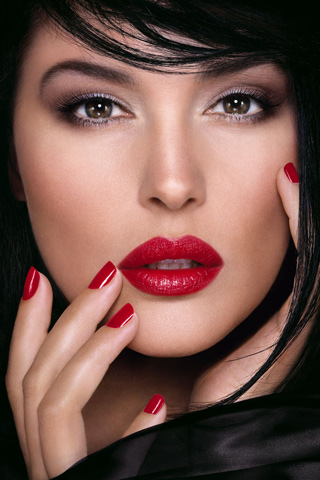 One more ad with red lipstick which I really liked and which was also polular several years ago is this one with Liv Tyler. Can't say that it's my fave now, but I remember how much I used to like it!
I know that a lot of you may find this one scary but I like it a lot for some reason. This is Ines Sastre for Lancome. Collection of 1998 by Fred Farrugia.
Coco Rocha by Val Garland for Yves Saint Laurent
I really loved the promo photo by Chanel for this summer, beautiful!
This promo photo by Chanel is gorgeous! By the way, Malgosia Bela on both photos.
So as you can see most of these promo photo are not so old, only the Lancome one is from the 90's. I will be sure to make a post about those old ads that I like in the future!