I have three products from the amazing Lisa Eldridge's N07 makeup collection for Spring 2012 to show you.
No7 Vital Enlightening Highlighter (10g £13), No7 Vital Brights Cream Blush (2g, £10) in Blooming Pink, bright hot pink and No7 Vital Brights Lipstick (3.5g, £10) in Blooming Pink, hot pink.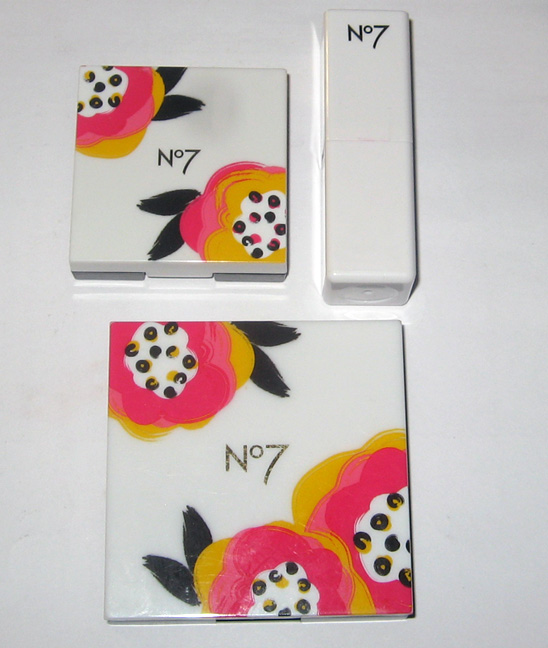 First of all I have to say that I really like the flower prints on the packaging and I really wish they'd put at least one on the lipstick tube, too.
I was really excited about the bright pink blush and lipstick when I first saw them. And, let me tell you, both are even better than I've hoped they'd be!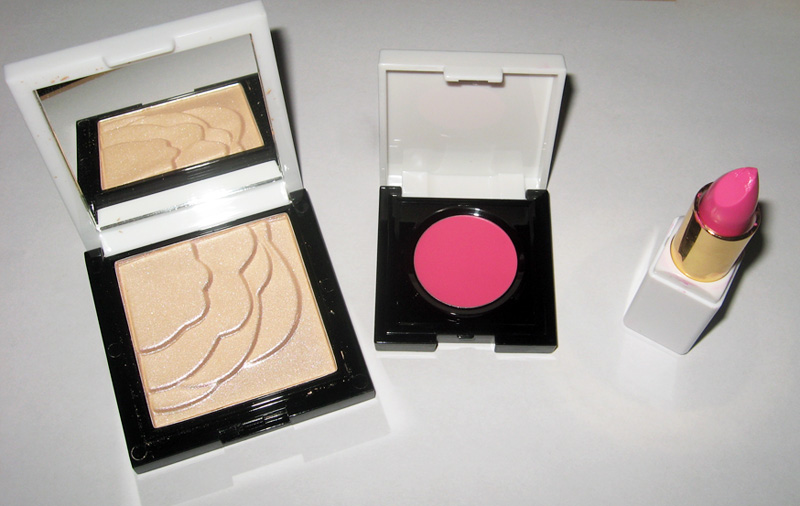 I will start with the lipstick as it is my favourite item. It it a perfect bright, hot and vibrant blue based pink which gives a nice glossy texture. The shade is buildable, you can blot it out for a sheer effect or layer it up for a stunning full on colour.
I really like the lipstick's formula, it is like a hybrid between a gloss and  a lipstick – great choice for Spring. This lipstick glides on easily and is not drying at all.
The blush is awesome, too. It may look a bit scary in the  pan but it is totally wearable. You can blend it out easily and it gives  the most beautiful pink flush. Makes a huge difference to my 'zombie-like  Autumn face'! The texture is lovely, it is a powdery cream and reminds me the YSL cream blushes which I adore.
As for the highlighter, it has a  soft warm sheen to it; the product blends  nicely into the skin and gives a beautiful glow. Although I prefer liquid highlighters, this one has a high quality and I will be definitely using it in the future.
Highlighter heavily applied, lipstick, blush blended out, blush heavily applied.
I would highly recommend both the lipstick (I'd probably have to get a back up) and the blush. There is also a natural coral pink lipstick and blush in the collection called Blossoming Pink and an eye shadow palette. You can see everything here.
Here is everything applied. On the eyes I am wearing Nude Tude eye shadows.
Can you see how gorgeous   the colours are?! I've got lots of compliments about the lipstick. Thank you, Lisa, and No7 for such a wonderful shade!
The nail polish is this one if anyone is interested, it's amazing.
These products will be available from the 25th January.