Paul & Joe never fails when it comes to bringing out the most beautiful makeup collections.  Their collection called Midsummer Nights is not an exception, it is absolutely stunning!
This collection includes:
Shimmering Pressed Powder G
Lip Gloss G:
Lip Gloss G (001) Love Potion, the perfect pink to swipe on for day or night with a light Strawberry & Vanilla flavour
Lip Gloss G (002) Fairie Kisses, a bright yellow gloss that appears translucent on lips with a light Green Apple & Vanilla flavour
Lip Gloss G (003) Dream A Little Dream, an enchanting orange sherbet tint with a creamy cool Orange & Vanilla flavuor
 Face Color G
Nymph (001), a pop of pink to add a bold burst of color
Nubile (002), a soft, flirty peach to flatter every skin tone
Faune (003), a deep rose to create elegant contours
 Shimmering Body Lotion G
Cooling shimmering body lotion
Nail Enamel
 Fairie Queen (028), specs of glittering pale pinks, purples and blues perfectly pepper this shimmering translucent shade
Sprite (029) , a watery, whimsical shade of pastel green dotted with pearls of precious pink adds a gradated finish to fingers.
Pixie (030), striking silver sparkles create a holographic effect that creates depth and dimension on any manicure.
Self Select Eye Color
Six new eye shadows and three LE shimmery eye shadows that can be worn on top of other shades.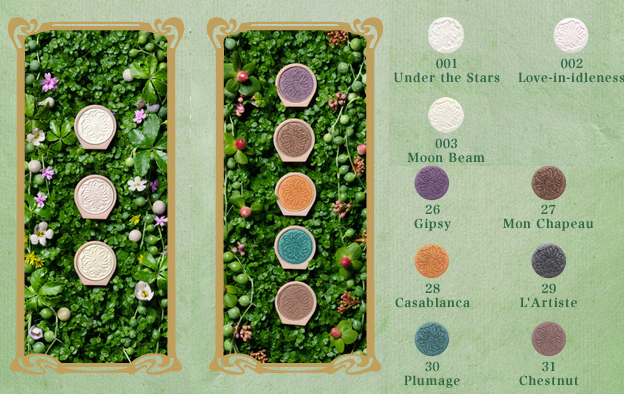 Blotting Paper, Limited Edition design
I want the Faerie Kisses lip gloss, of course, and am also curious about those shimmering eye shadows that can be layered on top of others.
This collection should be available from ASOS.com  (from the May) and beautybay.com from the 1st June.