How cute are these new Paul & Joe  lipstick cases and how beautiful are the lipsticks themselves?
I'd definitely want that first design for myself!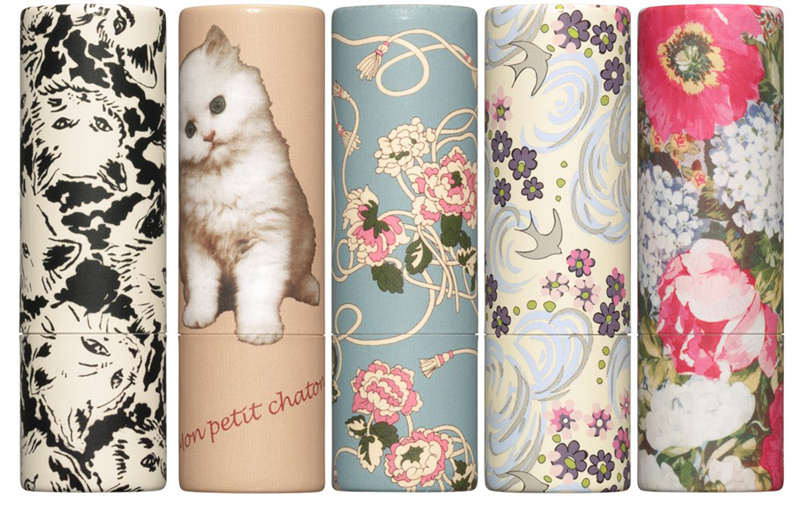 The lipsticks themselves are divided into three groups: full, sheer and natural.
Full Coverage
 301 Mon Mimi, a sexy and sophisticated nude
 302 Retro, nostalgic and necessary pink-beige
303 Silk Stockings, a delicate and beautiful vermillion red
 304 Rouge, the truest red that absolutely oozes sex appeal
 305 La Vie en Rose, a modern twist on fuchsia
 306 Avenue Montaigne, elegant Bordeaux, timeless and edgy. Named after the famous Paris street and home to Paul & Joe's flagship shop
 307 Cathedral, a classic deep, red- chocolate
 Sheer Category
101 Secret D'or, a pretty touch of "sheer" golden shine
 102 Sheer Bliss, succulent, fresh and perfect on every pout
 103 Just Peachy, a faint, juicy orange that flatters everyone!
 104 Mademoiselle, a ladylike and graceful pink with elegant shine
105 First Kiss , a pink with pop that adds flare to every pucker
Natural Formula 
201 Potpourri, natural and sexy beige, perfect for day or night
202 Prêt-à-Porter
 203 Petite Princess, a completely kissable sherbet hue
 204 Toujours Heureux, a juicy orange shade that means "always happy" in French; simply apply and start smiling
 205 Strawberry Jam, a sweet, fruity and rich coral red
206 Joie de Vivre
 207 Grapevine, soft pink that packs just the right amount of punch
 208 Le Marais, a classic and cool sepia tone
I personally love all the dark shades from the Full Coverage range and 102 Sheer Bliss with 105 First Kiss from the Sheer category. What about you?