This summer Paul & Joe offers pretty retro inspired makeup collection with beautiful colours and waterproof formulas, new makeup primer and a hair and body perfume.
The promo image makes me want to go on a holiday, it's perfect!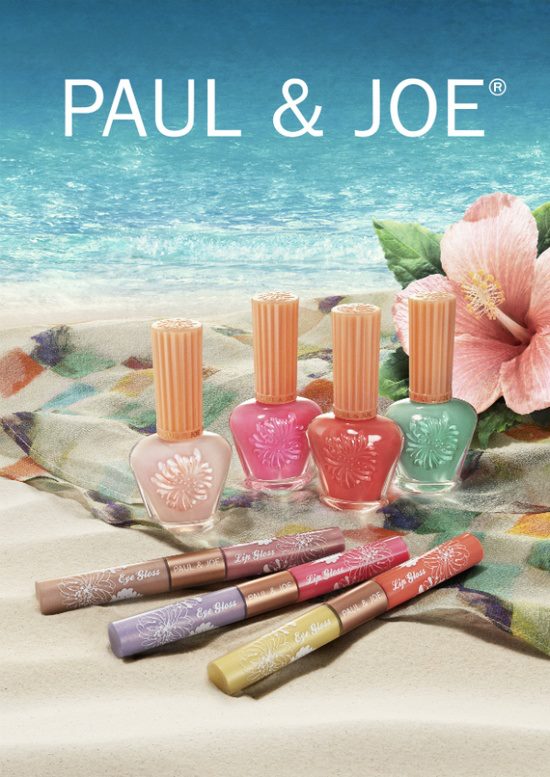 Eye Gloss & Lip Gloss Duo: Santa Monica (rose shades), Nice (purple and pink), Monaco (bronze and beige), Maui (nectarine and lemon), Bahamas (clear and coral).
Sounds like an awesome product to have for summer. There's nothing sexier than glossy lids, in my opinion.
Fragrance Hair & Body Mist, 50 ml
Top: Herbal Green/Citrus/Fruity – Lavender, Orange, Bergamot, Lemon
Middle: Marine/Floral – Neroli, Petit Grain, Rose, Jasmine
Base: Woody – Amber, Musk
Smoothing Base , 30 ml
"Foundation primer with a pore minimizing formula that instantly erases discoloration and dark spots. "
 Blotting Papers Refill
Eye Liner WP & Eye Crayon Duo – Cyprus (gold and brown, Santorini (charcoal and turqouise), Saint Tropez (caramel and beige), Fiji (beige and lavender), Las Palmas (blue and green).
Las Palmas sound like a must-have shade to go with a tanned skin.
Pressed Powder UV
Nail Enamel – Miami (lavender), Caribbean(aquamarine), Bermuda(pink), Mauritus (sparkling sand-tone), Rio (orange).
Caribbean looks hot!