I am happy to show you the second Photos of The Week feature.   I really hope you enjoy it and please let me know what you think.
1. Apivita Anti-Wrinkle Serum.
My Mum has finished up this serum with with vitamin e & resveratrol and she reports that is was really nice. She did not say anything about the anti-wrinkle effect but, according to her, the skin definitely looked better and felt much softer. You can read about this serum here. By the way, here  is the serum from Apivita which I've used and really loved.
2. Elle Magazine May.
Elle (UK) May magazine.  With  my favourite Emily Blunt on the cover and lots of amazing makeup looks inside. I really loved the makeup on the red head which you can see below. And can you guess who did it? Yes.. Lisa Eldridge.  I was looking at it ans thinking that it looked like her style and when I read the credits, turned out I was right 🙂
3. Breakfast
Of course, I had to include a photo of food. This is just a random breakfast with salad, omelette with green olives and Camembert and orange juice.
4. Eva Green for Dior
I thought I'd frame some of my favourite beauty looks to put on the wall. Here is one of them which is Eva Green for Dior Midnight Poison. Yes, I can see that  I should cut it a bit to make it look nicer and I should put it right in the middle of the frame. This is, obviously, not a finished result!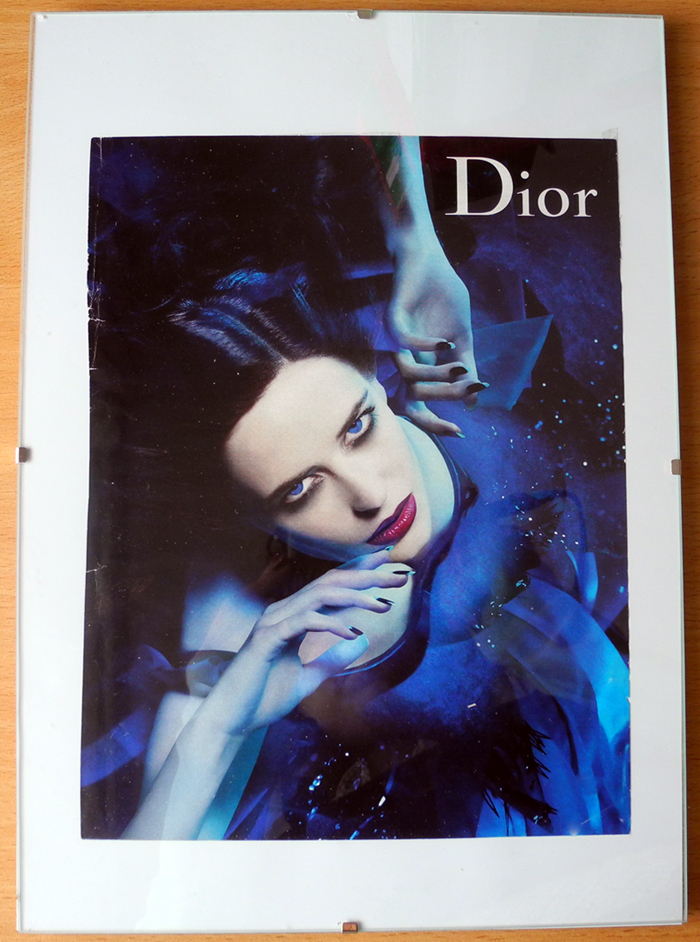 5. 17 Makeup Bag
I really love this makeup bag from 17. It is  black and silver  and it is very small, the size of my hand, but I can fit everything I need in it.
6. Pasta
I  love  eating pasta, especially if it is  original. On the photo you can see my latest purchase and the black one with cuttlefish ink, looks very impressive and tastes great.
7. Jo Malone and Clarins Creams
Jo Malone Vitamin E Moisturising Day Creme SPF 15 and Clarins  HydraQuench Cream for Normal and Dry Cream with SPF 15 were the two creams I used to use in winter.  I will try to write a proper review at some point.