Probably some of you saw "Lush posts" so often that you are not very happy to see this one 🙂 But don't worry I am not going to write about all the bath bombs, soaps and foams that I've tried ( now I like Honey I Washed The Kids , Sea Vegetable and Vanilla in the mist soap ). So today I want to tell you about my experience with Dream Cream. Before I start there is something important that you need to know.
I have very dry skin. And when I say very dry skin I mean it, I have it on genetic level and it can't be cured ( I won't get into details because it is too personal, but my skin needs to be moisturized at least once a day). I've spent a fortune on a skincare and tried almost everything but most lotions, creams and even oils do nothing for me. My skin feels dry after an hour or so.
There are very few products that work for me. I am lucky that my favourite cream is cheap (because I need to buy it very often). I am talking about Garnier's Lotion for very dry skin which is in red bottle.  But what about Dream Cream? (£9.85 $22.55 )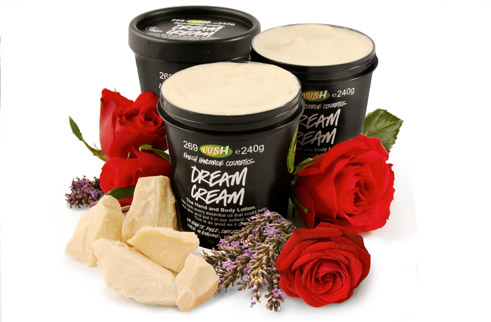 This is what is written about it and the list of ingredients
Incredibly soothing body lotion for troubled skin. Dream Cream is Lush's best-selling product because it makes sore skin feel good again. Chamomile and lavender calm irritations, reduce redness and banish blotches. We also use oat milk, too, which has traditionally been used on troubled skin for centuries. It contains everything nature makes for soothing your skin.
Quantitative Ingredients
Oat Milk (Avena sativa), Rose Water (Rosa damascena), Extra Virgin Olive Oil (Olea europaea), Cocoa Butter (Theobroma cacao), Glycerine, Stearic Acid, Triethanolamine, Tincture of Benzoin (Styrax benzoin), Rose Absolute (Rosa damascena), Chamomile Oil (Anthemis nobilis), Tea Tree Oil (Melaleuca alternifolia), Lavender Oil (Lavandula angustifolia), Cetearyl Alcohol, *Geraniol, *Limonene, *Linalool, Perfume, Methylparaben, Propylparaben}
*Occurs naturally in essential oils
My opinion and how the cream looks like in real life
You know, it REALLY is a Dream Cream! It is a rich cream with herbal scent which leaves my skin moisturized. It looks normal and healthy. And I only need it to use the cream once a day! I know that it can be used in so many different ways and helps with different skin problems. So you can read the opinion of other people at Lush website.
And what do you think about this cream? What for do you use it? I hope you want to try it now 😉