I have been on a mission "Spring Cleaning" lately.
It's an amazing feeling when you get rid of the things that you don't wear anymore. The main thing is to be very strict with yourself – if  you haven't worn a particular item for months, or even years, most likely you won't wear it any time soon. So don't even start the "what if"…
Guerlain Eau De Lingerie, new, LE, £60 for 125 ml. This is a lingerie spray withaphrodisiac properties with the notes of: iris, rose, white musk, vanilla, sandalwood and ambrette.
Plus when you give away of the things you don't wear you feel motivated (and can justify) for the new purchases. I have been doing that, as well! And it it very refreshing. In fact, I have bought two new dresses (see one here) this month already. Although I don't really wear dresses that often, but I felt like it was time for a change.
Jo Malone Abigail*ryan Red Roses scent sachet, New, LE, £22
But why am I even telling you that all?
Because it's an introduction to today's post – scented products for your closet. This may be not for everyone but I  personally love the idea. I actually remember that when I was little my Mum would  put nicely scented soaps on the shelves with my clothes and I always loved it.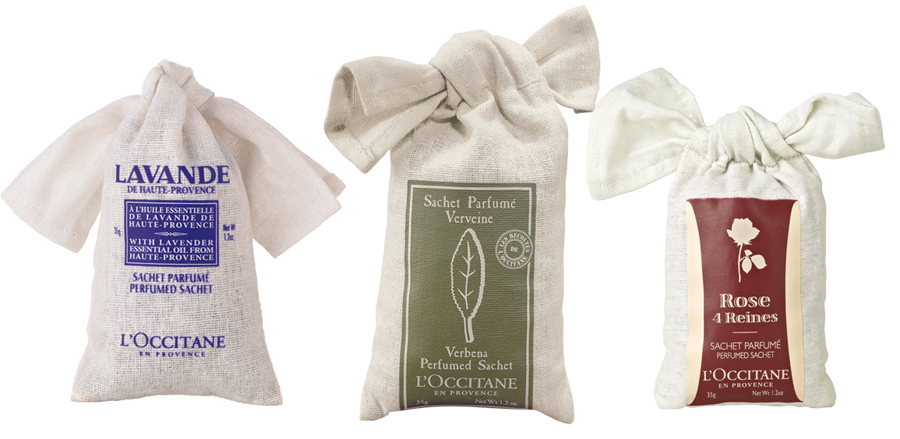 L'Occitane: Rose 4 Reines Scented Sachet, Lavender Perfumed Sachet, Verbena Perfumed Sachet. Each is 35gr and retails for £7.
Luckily these days there are special products for this purpose, not that you can't use soaps anymore.
Although, I guess, you could make such "sachets" yourself,   I can't really see myself doing that, as it would take some time (and effort) to get all the necessary ingredients. So I'd probably just go for a pre-made option.
Crabtree & Evelyn Iris and Rosewater Scented Drawer Liners x 6, 18 There are also other scent available
And do you use/like any scented sachets in your closet? Which one would you recommend?