Besides the pretty pastel and girly balm-like lipsticks which  are always out for Spring, I have notice one more trend, and that is lacquers.  I have chosen 5 different brands just to give you a taste of what is new, lip wise, for SS19.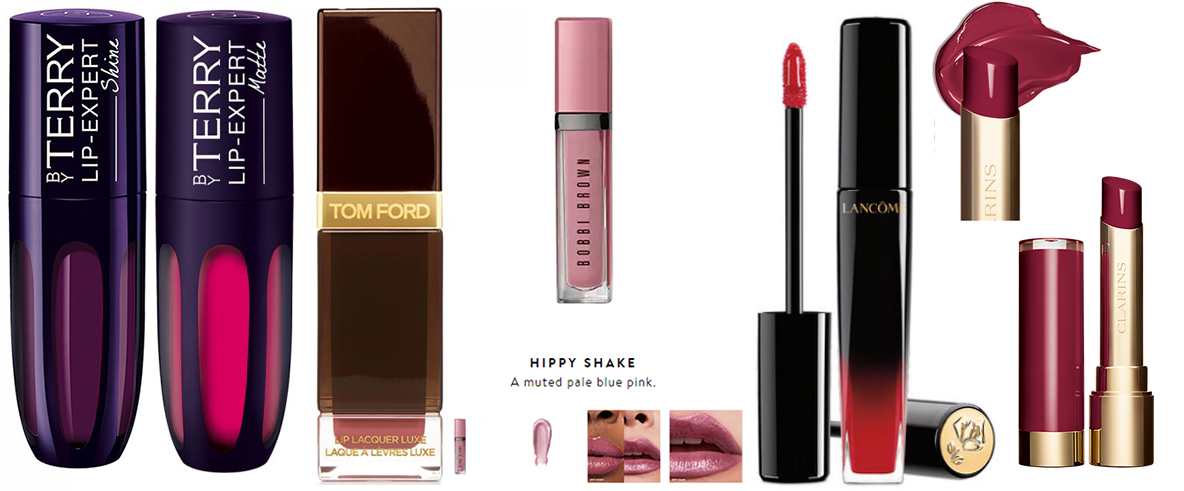 Clarins Joli Rouge Lacquer. Clarins is available  from from Selfridges,Harrods, Escentual.com,  Nordstorm,  Sephora, Bergdorf Goodman.
I am a huge fan of Clarins lip products so would expect Rouge Lacquer to be incredible.  The brand promise wet like vinyl finish, hydration and nourishment and easy application, among other things.  There are 7 shades to choose from. Shown above is 744 Plum.
Tom Ford Lip Lacquer Luxe  Matte $57 from Saks.  You can get Tom Ford Beauty from Nordstrom Harrods, Selfridges, Bloomingdales, Bergdorf Goodman.
Full coverage, highly pigmented, soft matte formula which  should be comfortable and long-lasting on the lips.  If you want to treat yourself – this is the way to go. There are 10 shades to choose from; shown is 05 Pussy Cat.
by Terry LIP-EXPERT Matte Liquid Lipstick and LIP-EXPERT Shine Liquid Lipstick, £31 from Cult Beauty,  Barneys , Nordstrom Net-a-Porter.
Another  luxurious release, byTerry brought out  loads of shades of a liquid lipstick both in matte and shimmer finish. The colours are to die for! Shown are 08 Juicy Fig Shine and 13 Pink Party Matte.
Bobbi Brown CRUSHED LIQUID LIP, £19/$26 from Selfridges, Nordstrom, Sephora.
Bobbi Brown promise that it's a  "liquid lipstick meets the comfortable feel of a balm and the plumped-up sheen of a gloss". Nourishing and moisturising, these come in a lot of beautiful colours.  Shown above is HIPPY SHAKE, a muted pale blue pink.
Lancome L'ABSOLU LACQUER  Buildable High Shine Ling-Wear Lip Gloss £23/$26 from Sephora,  Neiman Marcus,  Selfridges, Harrods, Nordstrom.
While Bobbi Brown promise the combo of a lipstick/gloss/balm, Lancome also promise the 3-in-1 product but this time "shine of a gloss, the pigment of a lipstick and the lasting power of a stain". The formula is  oil in water emulsion, lightweight and non-sticky, high shine finish and vivid colour payoff.  You can get either sheer or full coverage. 134 Be Brilliant demonstrated above.
And, last but not least, we can all get excited about the new Chanel  rouge coco flash Hydrating Vibrant Shine Lip Colour (£31/$38) (Nordstorm, Saks, Neiman Marcus, Selfridges and  Harrods.)
"A comfortable lipstick with intense colour that transforms on contact with lips for an enhanced high-shine effect"