Considering how much time we are currently spending at home, it's very important to like and enjoy the space we are in. This is why when Photowall asked me if I would like to choose one of their prints/wallpapers/posters I happily agreed.
So today I would like to share about the print I've chosen and a few other things I loved in my house.
Beautiful Prints
It literally took me a few hours to choose the one but it was worth it, as I am absolutely obsessed with my choice. I present to you the Bauhaus V print. There is something absolutely magical about the simple shapes and bright colours, that blue and red together are so captivating. And I find myself staring at it all the time. After all, Bauhas are legendary for a reason.
I've read and watched quite a lot about Bauhaus recently because they did get a lot of coverage, as it was 100 years since the foundation date in 2019 so it made even more sense to choose this specific, without an exaggeration, piece of art.
Yes, these photos were taken in our garden. We had some reconstruction work which started before "this all" but it felt like a cool idea to take a photo of the print like this.  I really love the finished result. And also I am very grateful for the garden these days, for obvious reasons.
I am still not sure why I did not get one of Paul Klee's prints when I saw some at the flea market. Oh well, I will definitely purchase something later.
But back to the V print. The quality is excellent.  The colours are bright and intense, and the overall impression is great.  In fact, I am looking at it right now.
Photowall have a lot of nice things to choose from and they offered my readers 25% off with the code makeup4all2020. It is valid until the 12th of May 2020.
I am not affiliated with the brand and this post is not sponsored content. The print, as already mentioned, was given to me for free.
The print arrived well packaged too, I love the attention to the details.
Pop of Colour
Since we are talking about bright colours, and how they bring so much joy, I would also like to mention the bright yellow sheets from Racing Green London and the bright red  Vidrios San Miguel vase both add the much needed pop or colour  to our overall neutral themed house.  Both items were purchased by me.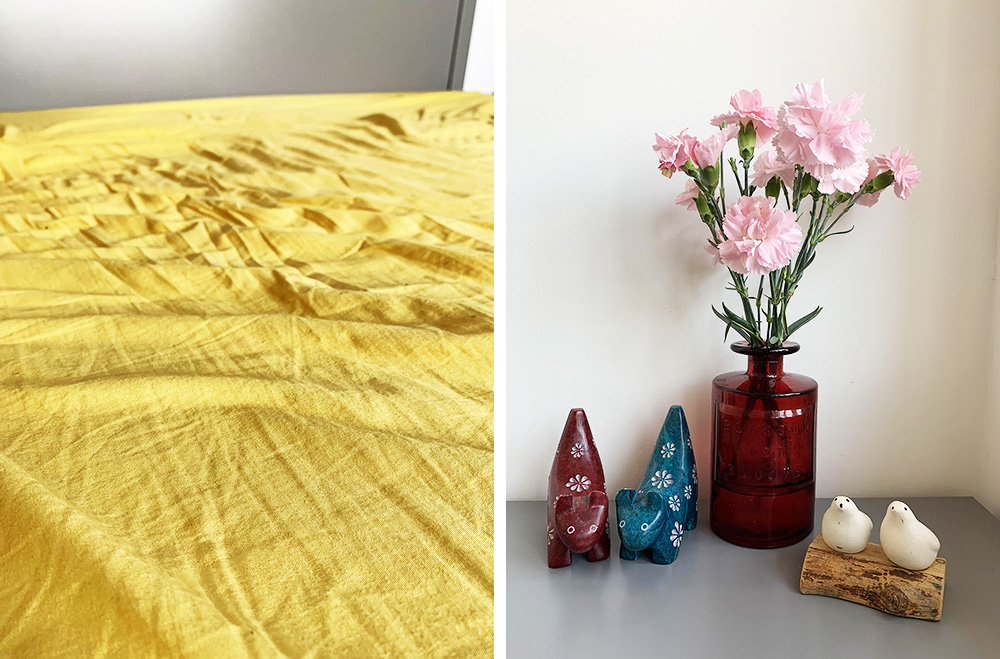 Flowers
And fresh flowers. I always have fresh flowers at home which you know, if you follow me on Instagram. Nothing beats that! Maybe just my plants that were a kind gift from a friend.  And who else is counting the days until it's peonies time?