Here is a preview of Armani's Fade to Grey makeup collection for AW 2014 which was inspired by light and shadows and reflects the brand's runway look (which you can see here).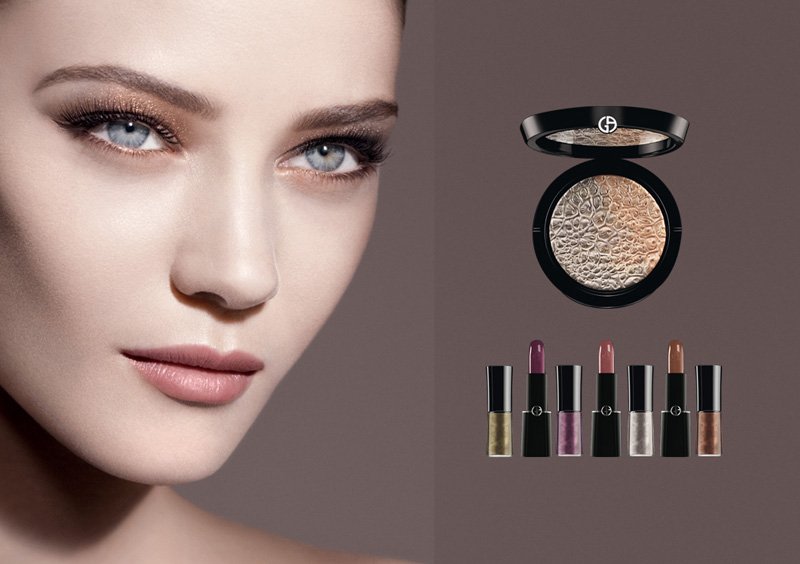 The products are:
PALETTE YEUX ($ 88)
Definitely the star if the collection,  a compact with black pearl and shimmery nude, plus a beautiful pattern.
There are also three ROUGE D'ARMANI SHEER LIPSTICKS ($34) in Jasper, Pink Sapphire and Spinel.  These have a
There is a new collection by Armani which is all about the nude lip glosses and lipsticks. Both glosses and lipsticks are divided into two groups, to suit the porcelain and  tanned skin.
Gloss D'armani for porcelain skin tones:
 Gloss d'Armani #515 in Vintage
 Gloss d'Armani #516 in Coral
 Gloss d'Armani #517 in Hot
And for tanned skin:
  Gloss d'Armani #513 in Roseperla
  Gloss d'Armani #514 in Petal
Gloss d'Armani #518 in Rosewood
On the picture the glosses are in the following order: from 513 to 518
 The price is £23.50/$28
It is interesting that Armani also suggest that the ' gloss can also be used on the eyelids to create a transparent, wet eye lacquer.' I wonder how the Armani gloss stays on the eyes as some lip glosses don't feel that nice on the eyelids.
As for the lipsticks, you can choose from
I L-O-V-E pink lipsticks so I am very happy to see these babies by Giorgio Armani. This is Limited Edition of lipsticks called  Rouge D'Armani Hot.
The shades that available are #519, #520, #521, #522, #523, #524. All of them are so SO beautiful!