I rarely post beauty empties, as I don't like gathering empty bottles and I do finish a lot of them, but it is different with makeup, I barely ever finish anything, so having three empties is a big deal. Plus I  really love all of them, so it was worth mentioning…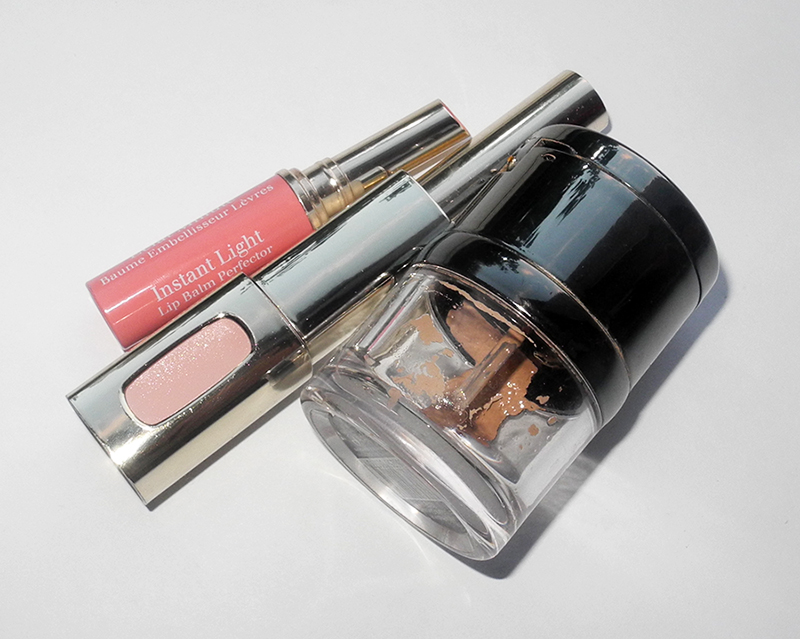 Daniel Sandler Invisible Radiance Foundation and Concealer (review)
This is the second foundation I have ever finished in my life. The first one was Max Factor's Second Skin which was the best affordable foundation on the market, in my opinion (it is sadly discontinued). Invisible Radiance Foundation and Concealer is a great choice if you want  a medium, natural looking coverage and a beautiful glowing finish.
Clarins Instant Light Lip Balm Perfector (review and swatches)
I have a new rule when it comes to beauty products, one out – one in (ok, maybe more than one in)! Meaning that I am allowed to buy new beauty products only after I finish some from those that I already have. This is why I get a bit excited when I see a new empty bottle in my bathroom.
I actually have some new items on the way to me, as I type. Can't wait to try my them all!
I know that it's not the end of Autumn yet, and there are still three weeks, but I have big doubts that I will finish anything else by the end of the month.
And by the way, here are Summer Empties. I've decided to do such features every season.
I really love  bath oils,  so, since  I've used up two of my favourites Lavera Organic Wild Rose Bath Oil  and Cowshed Lazy Cow Soothing Bath & Body Oil  to the very last drop – I've already ordered some new ones, which are on their way to me.
Since I have very dry skin, I have to use body moisturizers, sometimes more than once a day, so I go through them quite quickly and this month I have finished the following products:
The Body Shop Pink Grapefruit Body Butter. I think these butters don't need any introduction and explanation, they are fantastic.
  Aromatherapy Assosiates Enrich Body Serum. I never used a body serum before, and was excited to try such kind of product, as it makes sense to use serums/oils on the body before a cream just, as you would on the face. It works! Plus, as