Oils are a necessity for me, beauty-wise, especially in AW period. My skin is very dry, and during the cold months it is  flaky and sore. And I do love my daily hot shower which dries out  the skin even more. But I just can't help it. The relaxing and anti-stress effect [of a hot shower] is  very important for me.
This is why I've decided to get some shower oils. I have started with Yves Rocher Oriental Shower Oil .
And it is really lovely indeed. It has a subtle oriental scent, as the name suggests. The way it looks and smells – it reminds me of honey. My favourite way of using it is to apply to the skin directly. It turns into milk when contacted with water, and leaves the skin smelling divine, and feeling softer and more moisturized than after a regular gel. I still
If you are looking for a nice-but-not-expensive  unisex present for Christmas –  I have a great suggestion! Try Aromatherapy Associates' The Star Bath And Shower Oil.  
They bring a new one every year, and I even bought myself one two years ago because it looked absolutely adorable (see the red star on the photo), plus it contained my all time favourite Deep Relax.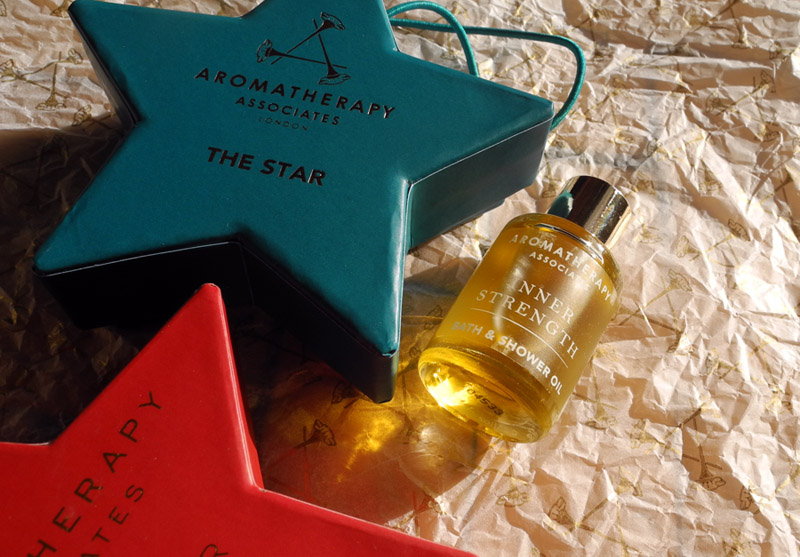 This year 'The Star' comes in a turquoise packaging and contains Inner Strength Bath and Shower Oil. I wrote about the candle from the line recently, and just wanted to remind you that 10% of proceeds  will be donated to the charity Defense Against Cancer.
As all the AA products, this one  smells divine, with the