It feels like I am starting every monthly favourites with this. But how is it August already, the 8th month of the year? Where did 2017 go?
All that aside, here is a list of the things I have been loving in July, and please keep in mind that I am still loving/using all the products from the previous months, but I just want to mention the ones I haven't mentioned before.
Makeup
theBalm  Balm Desert  (buy from  ASOS, Feel Unique and Sephora.).
I have only discovered this product in July but I think this will be a new long-time favourite. There is no need to say that the formula is amazing, it always is when it comes to this brand. But what is so special about it then? It is the  shade which is perfect. Bronzer/Blush is a great description, as it is not your typical bronzer, it has a reddish undertone to it. When I first saw Balm Desert, it made me think of Dallas by Benefit but they are not the same at all.  Anyway, this products is great for adding colour to your face, and for gently sculpting it, too.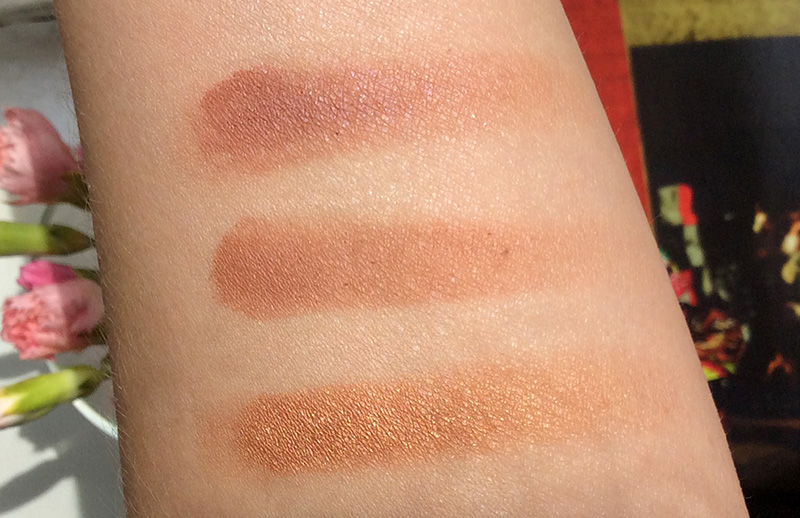 From top to bottom: Dallas by Benefit, theBalm Balm Desert , theBalm Betty-Lou Manizer.
Daniel Sandler Watercolour in Moonglow (review and swatches)
This is a
We all love personalised approach when it comes to everything including beauty, don't we? This is why it is awesome to see brands having that approach. I am personally a fan of Concoction hair care brand, and now it is awesome to see Clarins and their Boosters.
What are these?
Clarins Boosters are basically high-concentrated formulas which are created for a certain concern. You simply add several drops to the cream of your choice. There are three options to choose from:
Energy:
Tones are re-energises the skin
Minimises signs of fatigue
Revives radiance
Repair
Reduces feelings of discomfort
Optimises skin strength
Minimises the appearance of redness
Detox