I am loving the Dior Summer 2012 makeup which is called Croisette. Especially the turquoise shades for eyes and nails (the model's makeup looks gorgeous)  and the new gel eye shadows. The lip balms also look nice! And there is a great variety of bronzing powders, too.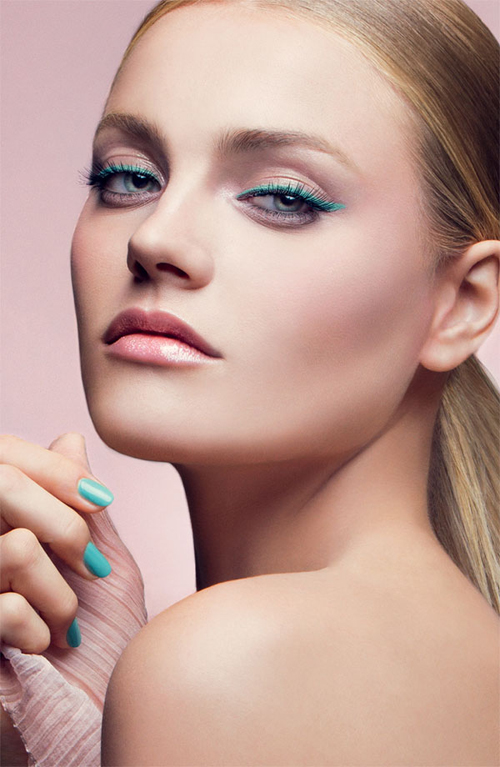 5 Couleurs Croisette Edition (Limited Edition),  £41.00
Swimming Pool: aquatic pastels, with a splash of freshness to illuminate the eyes: ultramarine, sky blue, turquoise, pearl grey and bikini pink. The shimmering sparkle of the water is within hands reach.
Aurora: visits the ochre of Mediterranean lands, with golden brown, sunny orange, sand and golden yellow to add intense warmth to the eyes.
Couleur Eye Gloss (Limited Edition), £20
Water resistant gel eye shadows.
020 Seashell
750 Sunset
240 Azur
560 Tan
Diorshow Waterproof Liner (Limited Edition), £18
Vernis Croisette Collection Nail Lacquer (LE), £18
Saint Tropez: Spotlight on the sea, an aquatic turquoise to wear at the poolside.
Bikini: Spotlight on sunlight, a modern, fresh and glamorous coral.
Addict Vernis Croisette Collection Lipstick, £24
Although I personally did not get updates about the summer collections yet,  a lot of makeup collections are already all over the Internet so I though I would share some links with you!
But first oa all, take a look at Dolce & Gabbana Bouquet Makeup collection for Spring 2012.
I absolutely ADORE this promo image for Dolce & Gabbana Bouquet Makeup collection for Spring 2012. I like Scarlett but those images of her on different sheets bored me to death. While this promo is a true celebration of Spring! Pistachio and  mint green  are the it colours for Spring, by the way. You can see the details about the collection with swatches at the Beaty Staff.
Dior Addict Extreme is the most exciting launch for me personally in a while and I can't wait to try these lipsticks.
Last week Dior had a presentation of these in Paris, to find out more and see the gorgeous photos, check out Jane's and Yulia's posts! And Yulia is just gorgeous, no?
And are you ready to see some SUMMER 2012?
Here we go..