This week I came across this ad from L'Oreal. This is an ad for their  Colour Riche lipstick featuring Doutzen Kroes. And, wow, this colour (#410) is just so beautiful. I would totally use it for spring/summer. The nail polish is also amazing.
Orange should be a a huge trend this summer as well as it was last summer – see me wearing orange/coral lipstick here. The question is: "Would you dare to wear such colour?". I am going to check out this lipsticks and I really hope that the colour is close to this promo.
If orange lipstick is way too much for, you can go for an orange/coral lip gloss. Something like this gorgeous BECCA gloss in Frappe which is a total perfection.
As for the nail polish – I totally love this bright and hot coral/orange that I have. It's a must have for summer!
And do you like any orange/coral lipsticks or glosses?
I was happy that a lot of readers liked the idea of vintage and onld ads so today I want to share some of my favourite makeup ads.  But they are not vintage, this time but most of them were made within the last 10 years! So here are mine and I would really love to see yours!
I have a lot of ads that I like from the old magazines (I threw the magazines away just kept some photos that inspire me!)
This Guerlain KissKiss ad with Doutzen Kroes was in all the magazines only several years ago and I remember how much I used to love it and how much I used to want this KissKiss lipstick and the gloss(there was one similar for the gloss). Probably my fave Guerlain promo, so much better than Vodianova.
Of course I had to include this one with Monica for Dior. It's quite simple but I absolutely love it!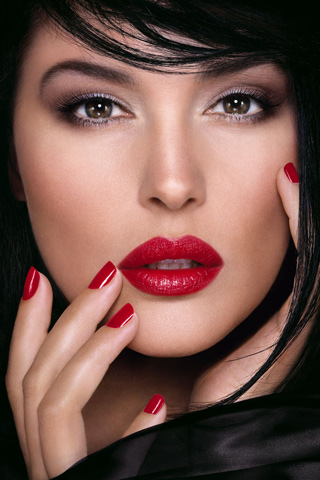 One more ad with red lipstick which I really liked and which was also polular several years ago is this one with Liv Tyler. Can't say that it's my fave now, but I remember how much I used to like it!
I know that a lot of you may find this one scary but I like it a lot for some reason. This is Ines Sastre for Lancome. Collection of