Unfortunately I can't say that I was super excited by any holiday collection, there were some nice products and I got some for myself but I can't say that there was a colletion that took my breath away… until this one. I want EVERY SINGLE item!
I am SO impressed with this collection that I want to tell you all the items from it. Collection includes:
Fallen Angel Palette for cheeks and lips, £35
A highlighting creme illuminates cheeks for a heavenly effect; cheeks are tinged with desire in a soft tawny peach as honeyed lips tempt and allure.
Highlighter – Narcissus (opalescent peach)
Lip & Cheek Crème – Nectar (tawny peach)
Nude Lip Gloss– Sunrise (sheer peach)
Enigma Palette,£ 48

Create a bold, intense, smoky eye with the Limited Edition Enigma Palette. These velvety smooth and highly pigmented powders glide on effortlessly and contain microfine shimmer for the sublets of sheen.
Eye Colour Powder Demi Matt – Armure (soft fawn)
Eye Colour Powder Demi Matt – Silesia (dark smoke)
Eye Colour Powder Shimmer – Surah (mauve/mushroom)
Eye Brush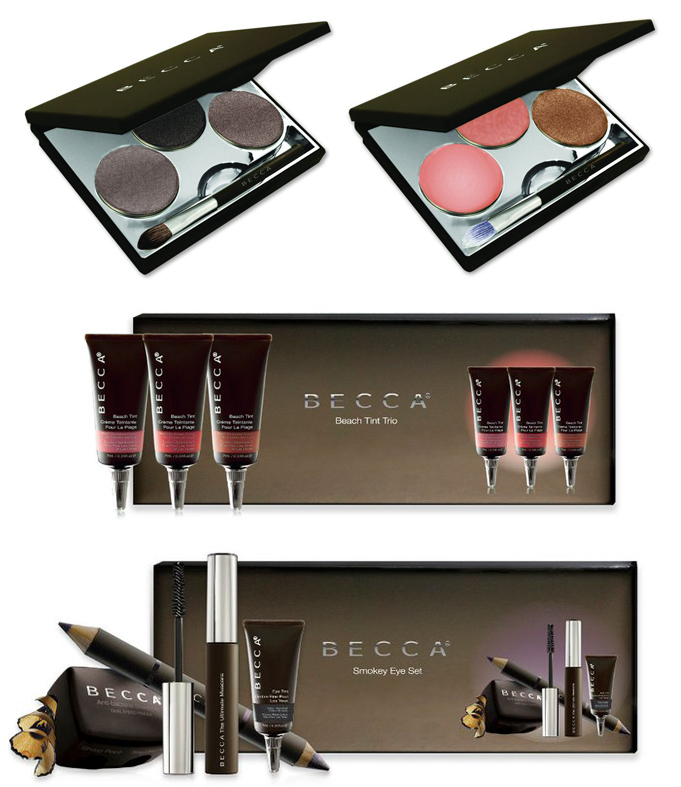 Beach Tint Trio Gift Set, £44
Take the guess-work out of gift-giving with the
BECCA showed this  promo photo of their new holiday 2010 collection Fallen Angel on twitter. I can't wait to find out all the details because I do love this promo photo and the products look great from what I can see.
Looks like we will get a new dark eye tint, several new line+illuminate pencils and new type of palettes.  Can I say it again that I can't wait for the details?!