Greta Garbo
Great post about 30's with photos plus a  video makeup tutorial  – MadameBFatale
Smashbox Wish for the Perfect Pout Review and Swatches from the Holiday 2009 collection – Musings of a Muse
Create Halloween Makeup in 20's Style. Video Tutorial – Makeup Geek
Photos and swatches of neutral makeup, awesome post! – The Beauty Look Book
Swatches of  Sweet Time of  The Year Holiday 2009 collection by Essie  – All Laquered Up
Photos of the palette from Giorgio Armani Holiday 2009 – Autumn Masquerade
Also don't forget about Sephora FF 20% off Sale which starts tomorrow!!!
This is the last day of my giveaway! So you still have time to leave a comment. Today one of you will recieve an e-mail from me! Good luck 🙂
I hope you all are having a gret weekend! I took this photo yesterday near my home.
I just made  a post about MAC face charts for Halloween and now it's time to think about special products created just for Halloween! You can get yourself some and make a great present to your friends. And I am talking about Lush of course! 😉 This products are already available here at Lush
Pumpkin Soap $5.95, 2.5 oz.
Our spicy Fall soap warms you up when you're chilled to the bone – limited edition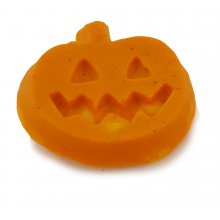 This limited edition soap is pumpkin-colored and shaped affair with a scent borrowed from our lovely and rejuvenating Spice Curls. So endearing that the headless horse man has tried to steal it for himself to wear around town! It's only around for Halloween so get yours before All Hallows Eve.
Magic Bath Bombs $6.95, 6.3 oz
Marjoram and rose conjure up vitality and prosperity – Limited Edition
If we told you that there was a surprise inside this treasure, it wouldn't be a surprise any more, now would it? Magic is a 14-sided bomb that turns your bathwater a deep sapphire blue. Seen from the top, it's a hexagon, or 'hex' bomb, with a blend of marjoram and rose in the shell to dissolve anxieties. Then, as the water changes color, basil and peppermint oils swirl into your tub to bring you growth, vitality and energy. When the sprig of parsley inside floats free, prosperity looms.
Witches' Ball Bubble Bars, $5.95 3.5 oz
A bubbling cauldron with a magical blend of reviving herbs – Limited Edition
Clear mental blocks with this mystical bubble bar filled with rosemary, sage, peppermint, frankincense, myrrh and benzoin. Deep fuchsia like the very edge of sunset, Witches' Ball is a bewitching mixture studded with star anise seedpods, cloves, blackcurrants and cranberries. Bathe in its brew of essential oils as often as you can before it disappears at the end of the year, making resolutions as you bathe.
Ghost Shower Gels and Smoothies $16.95 – $25.95
Are you ready for Halloween? Do you want to create a great look and need inspiration? You can check out 21 awesome face charts here. And here are 3 that I loved a lot? Do you think you will try something out? Which one did you like?
Ace of Hearts
Look created by M·A·C Artist: Regan Rabanal
Location: New York, NY, USA
Follow the step-by-step and M·A·C products listed below to achieve that look.
STEP-BY-STEP
1. Block out the eyebrows with MAC Studio Sculpt Concealer.
2. Sketch out the card shape around the eye…use an actual playing card to get the right shape and trace it with Fascinating Eye Kohl.
3. Fill in the card with Luna Cream Colour Base and cover with White Frost Eye Shadow.
4. Add card details with Blacktrack fluidline.
5. Cover face with Studio Sculpt Foundation.
6. Use Blacktrack Fluidline and Mystery Eye Shadow to create the ultimate smoky eye.
7. Add lashes to top and bottom of eye with Duo Adhesive.
8. Using Lasting Lust Pro Long Wear create a heart shape on the lips!
FACE
Wipes
Studio Moisture Fix
Prep+Prime Skin
Studio Sculpt Foundation
Studio Sculpt Concealer
Blot Powder/Pressed – Medium Dark
Powder Blush – Dolly Mix, Desert Rose
EYES
Studio Finish Concealer
Fluidline – Blacktrack
Eye Shadow – Carbon, Soft Brown, Mystery, Bamboo, White Frost, Passionate
Eye Kohl – Fascinating
Cream Colour Base – Luna
Penultimate Liner – Rapid black
Cremestick Liner – Red Enriched
Zoomlash – Zoomblack
Fibrerich – All Black
LIPS
Lip Erase – Pale (PRO)
Cremestick Liner – Red Enriched
PRO Longwear Lip Colour – Lasting Lust
Dazzleglass – Extra Amps
Deadly Dame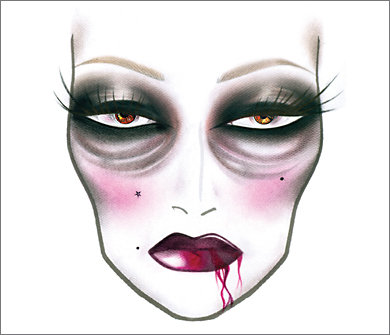 Look created by M·A·C Artist: Lara Brewster
Location: London, UK
STEP-BY-STEP
1. Prime and hydrate skin with an application of Prep + Prime SPF 50, and follow with a highlight of Strobe Cream.