If you want to get something very special for yourself – Tom Ford's Black Orchid set (£90/$140) is what you need! I personally absolutely love the nail polish and  the lipstick, the colour is gorgeous and I would love to have them both. Although I am not sure that I need this perfume but I guess it would be a nice present for my Mama, who loves such type of perfumes (but I can't imagine her rocking such lipstick/nail polish).
Set includes Black Orchid Private Blend Lip color(black design which I like SO much better), Black Orchid Pressed Perfume and Nail Polish.
So what do you think?
This holiday Clinique offers a lot of value sets for different taste!
Pretty Day Into Night Set £38.00/$36
Keep it casual or glam it up. Either way, Clinique favorites you can bank on. Apply it all like a pro—set includes expert tips for AM/PM looks and a pretty pink makeup bag, too.
Set contains:
High Impact Mascara in Black (0.14 oz.).
Dual-ended Different Lipstick in A Different Grape/Long Last Glosswear SPF 15 in Bamboo Pink (.04 oz. each).
Cream Shaper for Eyes in Starry Plum (0.3 oz).
All About Eyes (0.5 oz.).
Compact featuring Color Surge Eye Shadow in Seashell Pink, Light Purple, Grey and Night Plum.
Blushing Blush Powder Blush in Iced Lotus and Smoldering Plum.
How-to booklet.
Double The Kisses £22.00/ $25
Different Lipstick Shade: Raspberry Glace .04 oz
Long Last Glosswear Shade: Kissyfit .15 fl. oz
Different Lipstick Shade: Double Fudge .04 oz
Long Last Glosswear Shade: Sunset .15 fl. oz
Different Lipstick Shade: Tenderheart .04 oz
Long Last Glosswear Shade: Air Kiss .15 fl. oz
Clinique Lip Cravings Makeup Gift Set, £20
Clinique Lip Cravings Makeup Gift Set is the perfect gift for all Clinique Lipstick lovers.
Packed in a convenient pink makeup bag, this set includes; Mini Long Last Lipstick- 2g, Mini High Impact Lip Colour- 2g, Mini High Impact Lip Colour- 2g and a Mini Different Lipstick- 2g.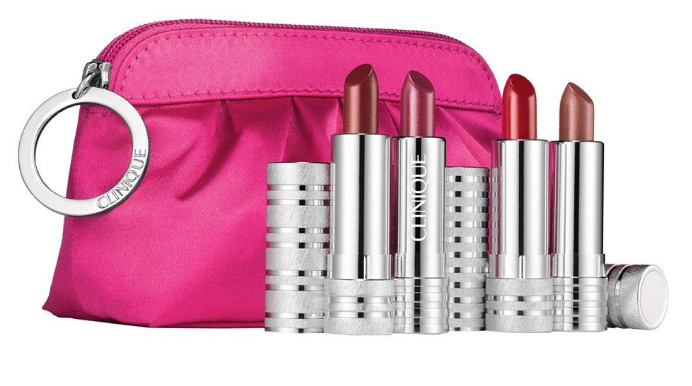 Clinique Best of Clinique – The Ultimate Clinique Makeup, Skincare and Fragrance Gift Set, £125.00
This set includes some of Clinique's bestselling must-have items including:
Ok, you don't see SUCH palette for $48 every day, it has everything you need! You can actually  own this palette, foundation, concealer and mascara and that's basically it.
I don't know about the quality of this particular palette but I have one of those small palettes which is $50 value and  retails for $15 (a friend from US got it for me) and I am quite impressed. The shadows are pigmented enough and the lip glosses are ok. My palette also contains a bronzer which is a bit orange for my skin but it works just fine on darker skin tones (I've tried).
So the questions is: "Would you get such palette?"
This is a killer deal and if you want to have a lot of makeup and are on a budget this is something you should really check out!