I remember when Ilamasqua just launched in November 2008 (Makeup4all actually launched 3 months later, so I covered all their collections) – it was something different and unique, something edgy, alternative, and opposite the mainstream, so to speak. Their collections like Dystopia and Theatre Of Nameless were so unlike anything else with the gorgeous looks from Alex Box and unreal shades of the products.
To be honest, I wasn't a big of the latest releases such as Glamore and similar ones, as for me it wasn't the Illamasqua I loved. This is why it is very nice to see how they are back to their roots with this new To Be Alive Collection.
Striking visuals with fierce makeup and stunning model. The products in the collections are well-edited and unique:
Spirit Palette, £34
Powder Eye Shadows in 

Cascade (ultraviolet light), Inspire (rich true blue) and Refine (intense midnight blue)

 Shimmer Cream Eye Shadow in Awaken (delicate ice blue).
Glamore Lipstick, £18.50
Illamasqua just laucnhed a capsule makeup collection for Valentine's Day called Broken Heart. As usual, the visual from Alex Box is stunning.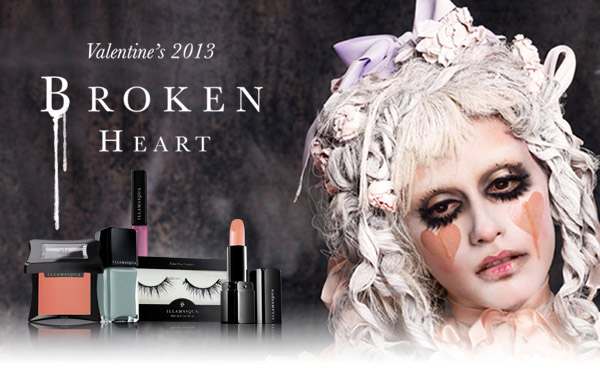 The products from the collection are:
Lipstick in Sonnet (£16), cool peachy nude, matt finish.
Cream Blusher in Rude (£18), warm peach, dewy finish. One of my favourites. See the review and swatches here.
Nail Varnish in Raindrops (£13.50), sheer light grey, jelly finish, was a part of the Bloggers collection.
Intense Lip Gloss in (£14), mauved rose pink
False Eye Lashes N021 (£14.50)
The complete set with all the products  retails for £70 which saves you £6.