I am a huge fan of Kate Moss Rimmel lipsticks. I think that for a very affordable price you get a very high quality lipstick. These are seriously some of the best lipsticks I have tried, even compared to the luxury ones. I have several shades and have actually reviewed two of them (see here).
This is why I am very excited about the new matte lipsticks for Autumn. The original lipsticks come in a black package and these come in red.
I love the makeup Kate is wearing on the promo a lot!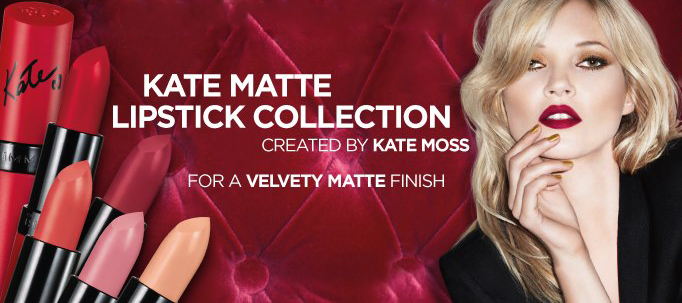 There are five shades:
I love Kate Moss. I love Rimmel lipsticks. I love bright matte lipsticks. I love black and red. It seems like those Rimmel Kate Moss lipsticks were made for me!
I knew I'd love them just when I saw the first promo and I was right.
First of all I really like the simple black design with a red Kate signature. Although it is plastic, it doesn't look cheap.
I've picked shade  No2 several weeks ago and now I am finally writing my impression.  Ok, this colour is probably not for everyone(by this I mean that not everyone would like to wear it) but I really love it. It's a bright blue toned fuchsia pink which looks perfect with a simple eye makeup.
Although it is a matte lipstick, it doesn't look flat and the formula is non-drying. The colour pay-off is fantastic and you get a beautiful, vibrant shade with only one layer.
The staying power is