Lisa Eldridge is doing a really great job at Lancome, have you noticed that lately their releases look more fun, and more creative? Also the products look more youthful, in a good way.
Here is a preview of the brand's summer release. And just look at those face palettes *heart emoji*
Belle de Tint Mpsaic Palette ($45) is a blush and bronzer palette, it comes in two shades: 01 Patio Mediterraneen 2  PatioD'une Nuit D'ete.
Besides the gorgeous palettes, liquid eye shadows which are usually released for summer also look hot. Le Metalliuqe Liquid Eyeshadows ($29) are promised to be
I am loving the Dior Summer 2012 makeup which is called Croisette. Especially the turquoise shades for eyes and nails (the model's makeup looks gorgeous)  and the new gel eye shadows. The lip balms also look nice! And there is a great variety of bronzing powders, too.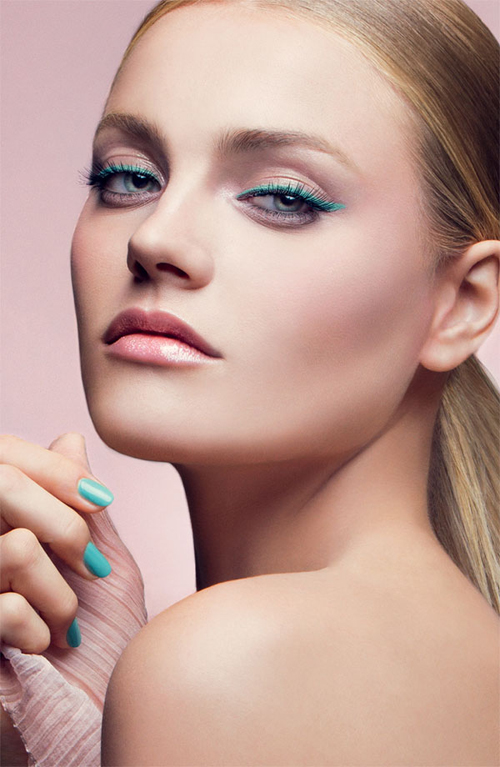 5 Couleurs Croisette Edition (Limited Edition),  £41.00
Swimming Pool: aquatic pastels, with a splash of freshness to illuminate the eyes: ultramarine, sky blue, turquoise, pearl grey and bikini pink. The shimmering sparkle of the water is within hands reach.
Aurora: visits the ochre of Mediterranean lands, with golden brown, sunny orange, sand and golden yellow to add intense warmth to the eyes.
Couleur Eye Gloss (Limited Edition), £20
Water resistant gel eye shadows.
020 Seashell
750 Sunset
240 Azur
560 Tan
Diorshow Waterproof Liner (Limited Edition), £18
Vernis Croisette Collection Nail Lacquer (LE), £18
Saint Tropez: Spotlight on the sea, an aquatic turquoise to wear at the poolside.
Bikini: Spotlight on sunlight, a modern, fresh and glamorous coral.
Addict Vernis Croisette Collection Lipstick, £24