Tag: Lisa Eldridge for Lancome
Summer Bliss is the first Lancome collection designed by favourite Lisa Eldridge. According to the brand she was inspired by the mysterious, fresh, and colorful jungle landscapes. Although all the products and shades look beautiful, there is something that really stands out.
And that is Belle de Teint Elixir, $38
It is described as a "healthy-glow cocktail with a light weight liquid phase. The oil phase provides comfort, watery phase provides freshness and lightweight feel, and the pearly phase delivers long-lasting bronzing makeup results for a radiant complexion.  A subtly shimmery fluid that highlights summer skin's natural glow in a few drops. This oil elixir can be used to enhance glow for face and legs."
Available in 3 shades:  01 Glow Vanille, 02 Glow Orchidee and 03 Glow Jungle
See how Lisa uses it in the video below
There are also two new shades of Belle de Teint ($42.50) 11 Belle de Vanille and 12 Belle de Bronze which combine a trio of shades in one compact,
It is "silky, smooth bronzer that adds instant color, shimmer and healthy glow to skin. A specialist of healthy glow & healthy skin, Belle de Teint can be used on your face or all over your body to
With their Spring 2016 makeup collection – From Lancome With Love the brand is definitely aiming at the younger audience with the playful illustrations, tins the products come in and pastel shades.
The promo image with blue and pink shades makes me smile and think of a beautiful spring ahead of us. It looks romantic and carefree, if you ask me. And we all need that…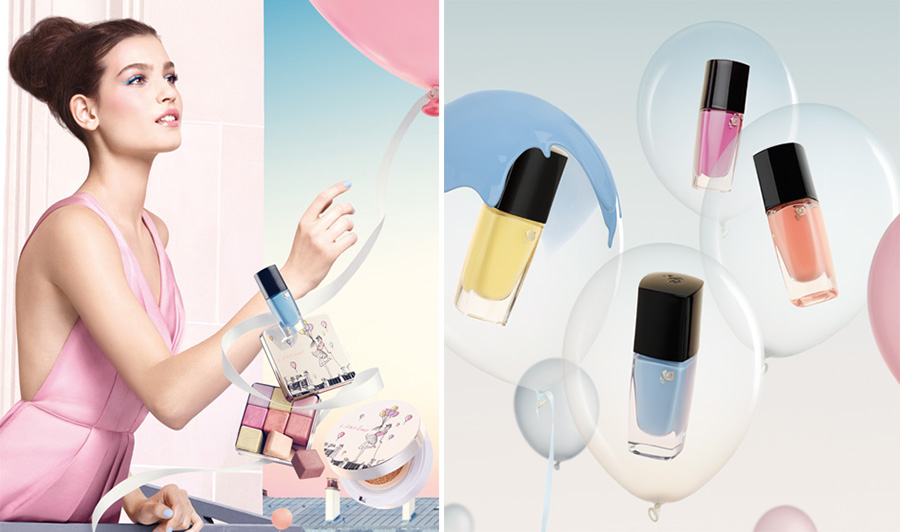 Vernis in Love, £13.50
146 Rose Haussmann
148 Corail de Ville
149 Jaune Grands Boulevards
153 Bleu Ciel Parisien
Here is a video with an  overview of  the collection. Lisa Eldridge demonstrates some of the products in action. Speaking of Lisa and Lancome, have you seen a preview of the Juicy Shaker?
The star of the release is My Parisian Pastels palette (£50/$59). It includes 9 shimmering pastels which can be used on the face or on the eyes.
There are also two cream  My Parisian Blushes  (£28/$39)in 01 Corail de Ville and 02 Rose Haussmann.
Products for lips are: