ArtDeco's Mystical Forest collection is all about the hot burgundy, crimson, berry and purple shades for eyes, lips and nails.  There are tonnes of products to choose from so there is something for everyone. And how cool is the beauty box?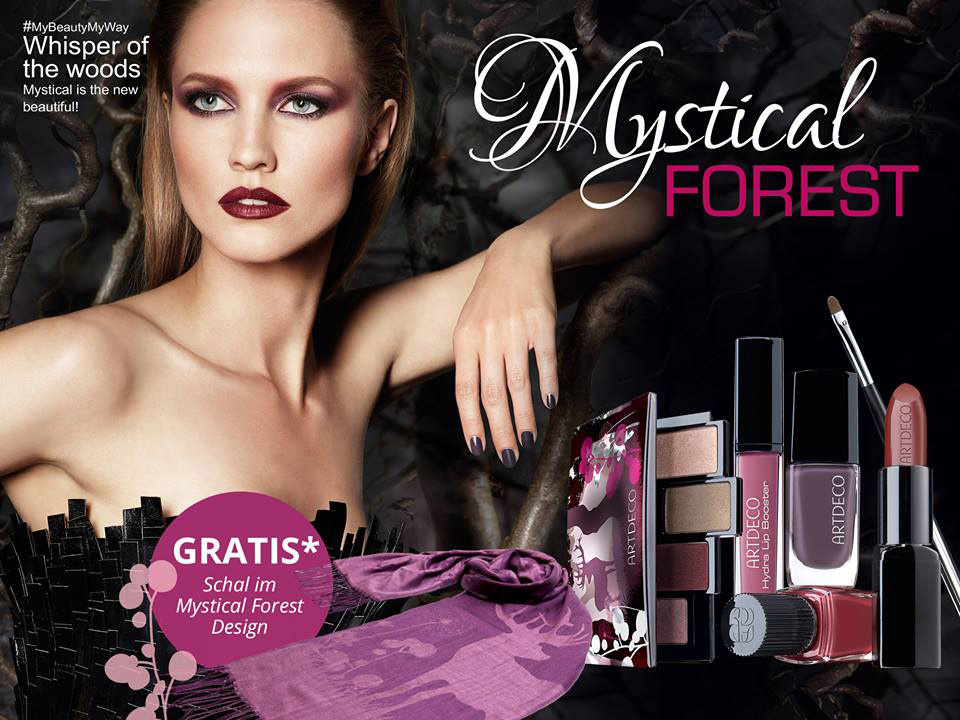 Eyes
Soft Kajal Liner
12 – dimgray and 56 – woodgrained
Soft Eye Liner Waterproof
Eye Designer Refill
83 – mountain ash
236 – glam gorgeous aubergine
Beauty Box in Mystic Forest. How gorgeous are the purple and pink shades?
Blusher
Eyeshadows: 215 – mountain rose, 91A – forest flower, 89A –
As you may remember, there are a lot of new foundations out for Autumn. So here is, as promised, review of one of them – Clarins Skin Illusion Mineral & Plant Extracts Loose Powder Foundation.
I have the lightest shade, of course, which is 105 Ivory. I actually really like the design of this foundation.  I love how it looks on my vanity, it draws attention and it is cute. Isn't it important, too? 😉
I don't usually use mineral foundations as they may look powdery and a bit cakey on my dry skin. But since it's summer my skin is normal now, so I've decided to give this one a try. I've had it for several weeks and am ready to tell you my opinion.
Here is how the powder  looks like.
First of all, I love the scent, it smells fresh and floral, as a lot of Clarins powders do, and I love it!  I was afraid that it may look too obvious on my skin, but it doesn't.  You should prep your skin first and application is the key here (more on that read below). But it looks flawless and blends in beautifully. Skin Illusion doesn't feel heavy on the skin, if fact, I can't even feel it.
It is long-lasting and stays on really well. Unfortunately, I did not have a chance to test it out in the heat but it does stay  on all day long when it's  +25C.
The coverage is medium to high, it is buildable, I had some skin problems this month and it was enough. I just used a little bit of concealer on top. Otherwise, this loose  powder foundation would be enough.
I have also used cream products on top (photo below) and they